Armor customization (Halo Infinite)
From Halopedia, the Halo wiki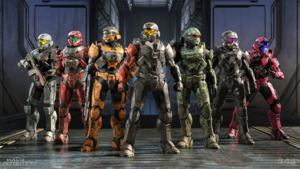 Known in-game as the Armor Hall, armor customization in Halo Infinite allow players to customize their Spartan player model. Inspired by Halo: Reach's armor customization,[1] Halo Infinite has a greatly expanded array of player customization compared to previous entries in the series.[2]
Overview
[
edit
]
Halo Infinite's armor customization will allow players to change the Helmet, Helmet Attachments, Chest Gear, Shoulder Pads (left and right), Gloves, Knee Guards, Wrist Gear, Utility, Visor Color, Prosthetics, Voices, Armor effects as well as other components yet to be announced. Players can unlock armor permutations pieces through gameplay, seasonal Battle Passes, challenges, in-game Fracture events, and purchase.[2] Additionally, armor pieces are exclusive to their acquisition methods; for example, items on the Battle Pass would not be unlockable through other methods.[3] Players choose their armor core, which acts as the foundation for their armor where other components, including at least the helmets, are placed.[4] At launch, attachments will be locked to their specific armor core, although 343 has stated they are looking into ways to open up cross-core customization.[5] Similar to Halo: Reach, Halo Infinite allows players to remove their shoulder pads entirely, though unlike Halo: Reach this is not the default appearance.
List of permutations
[
edit
]
Mark VII core
[
edit
]
Mark V(B) core
[
edit
]
Yoroi core
[
edit
]
Multi-core customization
[
edit
]
Visor colors
Visor colors
Visor color
Unlock

Beltane
TBD

Dragoon
TBD

Enlisted
unlocked by default

Goblin
TBD
Helljumper
TBD
MIA
TBD

Phalanx
TBD

Rampant
TBD
Stalwart
TBD

Vandal
TBD
TBD
Prosthesis
Prosthesis
Prosthesis
Unlock
Hand
unlocked by default
Transhumeral
unlocked by default
Transradial
unlocked by default
Transtibial
unlocked by default
AI Color
AI color
AI color
Unlock
Bloodhand
TBD
Ecumene Blue
TBD
Eridanus Sunset
TBD
Lightish Red
TBD
Promethean
TBD
Gallery
[
edit
]
Infinite's customization menu in the game and on the Halo Waypoint app/website.[6]
Sources
[
edit
]
^ Halo Waypoint, Inside Infinite - December 2020 (Retrieved on Dec 11, 2020) [archive]
^ a b Halo Waypoint, Halo Infinite Multiplayer Reveal (Retrieved on Jun 13, 2021) [archive]
^ Halo Infinite Multiplayer Overview: "All of these rewards are single source, so you're never going to be confused about where things come from. If you can unlock something in the Battle Pass, we're not going to let any other players circumvent that by purchasing it out of the storefront." - Ryan Paradis
^ Halo Waypoint, Canon Fodder - Showcase Sensitive: "... each of the helmets below as part of the new Mk. VII armor core." (Retrieved on Jun 16, 2021) [archive]
^ Twitter, Brian Jarrard: "For launch, customization components are associated with a specific core. Sorry we weren't more clear about that. Team is already thinking about ways to open that up and allow more mixing and matching down the road." (Retrieved on Aug 16, 2021) [archive]
^ Halo Waypoint, Inside Infinite - June 2021 (Retrieved on Jun 24, 2021) [archive]