Armor customization (Halo: Combat Evolved)
From Halopedia, the Halo wiki
This article is about the armor customization in
Halo: Combat Evolved
. For other games, see
armor customizations
.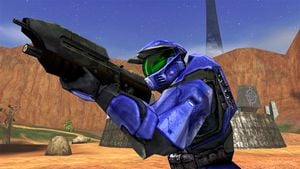 Armor customization in Halo: Combat Evolved allows a player to change the color of their armor, and in MCC only, customize the color of their helmet's visor too. Unlike later armour customization systems, the player cannot change their physical armor model in Halo: CE, or assign a secondary or tertiary armor color.
Armor color customization has existed in CE since its initial release on the Xbox in 2001, and has remained unchanged since. It allows players to pick the color of their entire armor set, with the exception of the undersuit and certain sections of the bracers and greaves, which will remain black regardless of color choice. Unlike later games, no secondary or tertiary armor colors are available; the entire armor will be coated in a single color. The set of colors available has not changed between any of the ports, remasters and rereleases of the game.
A total of 18 colors are available for use in CE:
Armour colours
Icon
Image
Name
Unlock Requirements
Black
Unlocked by default
Red
Unlocked by default
Blue
Unlocked by default
Gray
(Grey MCC)
Unlocked by default
Yellow
Unlocked by default
Green
Unlocked by default
Pink
Unlocked by default
Purple
Unlocked by default
Cyan
Unlocked by default
Cobalt
(Light Blue MCC)
Unlocked by default
Orange
Unlocked by default
Teal
(Lapis Lazuli MCC)
Unlocked by default
Sage
(Forest Green MCC)
Unlocked by default
Brown
Unlocked by default
Tan
Unlocked by default
Maroon
(Cherry MCC)
Unlocked by default
Salmon
Unlocked by default
White
Unlocked by default
MCC Colour names that were used by MCC at launch, before later being updated to match the original CE names.
On the 13th of June 2020, alongside the launch of Series 2: Spark for Halo: The Master Chief Collection, 343 Industries retroactively added the ability to customize the player's helmet visor color, first introduced in Halo: Reach, into the MCC port of Halo: CE. This was added alongside a larger update to MCC CE's cosmetic customization options, which also added weapon and vehicle skins. To allow players to experience the game as it originally released, a toggle was implemented that allows players to hide all new skins and visors and show only those customization options that were available at the launch of the original game.[1] These options are specific to MCC CE, and do not exist in CE on Xbox, its original PC and Mac ports, or the Xbox 360 remaster, Halo: CE Anniversary.
A total of 30 visors were added, making for a total of 31 including the default visor (which remains unchanged from the original game):
Visor colours
Icon
Image
Name
Description
Unlock requirements
-
Default
-
Unlocked by default

Blue
Part of a suite of experimental VISR enhancements.
Series 2, Tier 1 ( 1)

Dark Blue
Part of a suite of experimental VISR enhancements.
Series 2, Tier 5 ( 1)

Green
Part of a suite of experimental VISR enhancements.
Series 2, Tier 7 ( 1)

Dark Green
Part of a suite of experimental VISR enhancements.
Series 2, Tier 12 ( 1)

Purple
Part of a suite of experimental VISR enhancements.
Series 2, Tier 15 ( 1)

Bronze
Part of a suite of experimental VISR enhancements.
Series 2, Tier 19 ( 1)

Dark Purple
Part of a suite of experimental VISR enhancements.
Series 2, Tier 22 ( 1)

Red
Part of a suite of experimental VISR enhancements.
Series 2, Tier 24 ( 1)

Yellow
Part of a suite of experimental VISR enhancements.
Series 2, Tier 28 ( 1)

Orange
Part of a suite of experimental VISR enhancements.
Series 2, Tier 33 ( 1)

Dark Yellow
Part of a suite of experimental VISR enhancements.
Series 2, Tier 38 ( 1)

Pastel Blue
Part of a suite of experimental VISR enhancements.
Series 2, Tier 40 ( 1)

Silver
Part of a suite of experimental VISR enhancements.
Series 2, Tier 44 ( 1)

Dark Red
Part of a suite of experimental VISR enhancements.
Series 2, Tier 47 ( 1)

Pastel Green
Part of a suite of experimental VISR enhancements.
Series 2, Tier 50 ( 1)

Dark Orange
Part of a suite of experimental VISR enhancements.
Series 2, Tier 53 ( 1)

Pearlescent Yellow
Part of a suite of experimental VISR enhancements.
Series 2, Tier 57 ( 1)

Platinum
Part of a suite of experimental VISR enhancements.
Series 2, Tier 60 ( 1)

Pastel Orange
Part of a suite of experimental VISR enhancements.
Series 2, Tier 63 ( 1)

Pearlescent Red
Part of a suite of experimental VISR enhancements.
Series 2, Tier 66 ( 1)

Spectrum
Part of a suite of experimental VISR enhancements.
Series 2, Tier 70 ( 1)

Pearlescent Purple
Part of a suite of experimental VISR enhancements.
Series 2, Tier 72 ( 1)

Pastel Purple
Part of a suite of experimental VISR enhancements.
Series 2, Tier 75 ( 1)

Pearlescent Orange
Part of a suite of experimental VISR enhancements.
Series 2, Tier 78 ( 1)

Groovy
Part of a suite of experimental VISR enhancements.
Series 2, Tier 81 ( 1)

Pearlescent Green
Part of a suite of experimental VISR enhancements.
Series 2, Tier 85 ( 1)

Pastel Red
Part of a suite of experimental VISR enhancements.
Series 2, Tier 89 ( 1)

Pastel Yellow
Part of a suite of experimental VISR enhancements.
Series 2, Tier 93 ( 1)

Pearlescent Blue
Part of a suite of experimental VISR enhancements.
Series 2, Tier 96 ( 1)

Onyx
Part of a suite of experimental VISR enhancements.
Series 2, Tier 100 ( 1)
Gallery
[
edit
]
Sources
[
edit
]