Loadout
From Halopedia, the Halo wiki
| | |
| --- | --- |
| | This article is no longer up to date and needs to be updated with new information from Halo: Spartan Strike. You can help by updating this article. |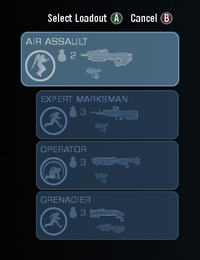 Loadouts, also dubbed Weapon sets are a multiplayer feature that was first introduced in Halo: Reach. In Reach they are a predetermined set of classes that a player picks at both the beginning of a multiplayer match and during respawn. In Halo 4, loadouts were advanced to become personalized starting equipment. In Halo: Spartan Assault, they are to be customized each time before starting a campaign mission. Known as Weapon sets in Halo 2: Anniversary's multiplayer segment, loadouts operated as predetermined classes, rather than the modular classes seen in Halo 4. Loadouts returned in Halo: Spartan Strike and later in a refined fashion in Halo 5: Guardians.
Overview
[
edit
]
When a game begins the player is given the option of choosing a particular loadout.
In Halo: Reach, loadouts are gametype specific and vary between playlists, meaning players cannot create their own custom loadout to bring to matchmaking. They can, however, create custom loadouts for custom games and user-created Firefight modes. Each loadout has particular weapon, grenade, and armor ability combinations.[1][2]
In Halo 4, loadouts are default in normal War Games modes. However, some modes do away with loadouts to allow more classic gameplay. Unlike Halo: Reach, loadouts are customizable in matchmaking and are better described as components of a player rather than options given by the mode.
In Halo: Spartan Assault, loadouts are constituted of a primary and a secondary weapons, an armor ability and a booster. They are to be chosen each time before starting a campaign mission and many items are only available through purchase via in-game or real-world currency.
In Halo 2: Anniversary, loadouts returned to being gametype specific, while being relegated to custom games, and certain pre-launch and launch playlists. Loadouts were more simplified, given the classic nature of the title, with only a primary and secondary weapon, and grenades being alterable in gameplay.
In Halo: Spartan Strike, loadouts act very similarly to that of Spartan Assault's, featuring primary and secondary weapons, an armor ability, and a booster. Loadouts are generally chosen before each mission.
In Halo 5: Guardians, loadouts were much akin to Halo 4's, featuring a primary slot, a secondary slot, and an armor mod slot. Unlike Halo 4, which enabled players to spawn with any weapon they wished, Halo 5 enforces gameplay balance by only allowing players to use certain weapons in their loadout after they reach a certain REQ level. Guardian's requisition system can be used to call in power weapons in place of the player's primary or secondary weapon, while calling in a powerup like an Overshield won't take up any slot, but will act as its own.
Halo: Reach

[

edit

]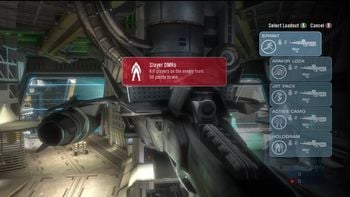 Loadouts were initially introduced in Halo: Reach as non-customizable, preset variations of weapons and armor abilities. Gametypes such as Slayer and Capture the Flag would opt to use loadouts featuring uniform weapon selections, with the differences between loadouts being the armor abilities present.
Gametypes such as Invasion would go for a more lopsided approach, with Spartan and Sangheili both getting their own loadouts, with various weapons and armor abilities that are exclusive to the faction being played. As the game advanced and certain phases were passed, new loadouts would be introduced in a system dubbed "tiers", with each successive tier generally featuring more lethal loadout weaponry.
Additional names
[
edit
]
Loadouts in Halo: Reach are fully customizable in custom games and local Firefight matches. Along with the armor ability, grenade type, primary weapon, and secondary weapon, players can also choose a name for their loadout. In addition to the names of existing loadouts, many additional name options are provided. These include:
Deceiver
Warden
Saboteur
Spec Ops
Sharpshooter
Demolitions
Infiltrator
Security
Danny
Jerry
Jimmy
Bobby
Omar
Berserker
Maverick
Angel
Pookie
FNG
NOOB
Camper
Bunker
Claymore
Firebase
Intel
Ninja
Power
Cobra
Eagle
Hog
Bear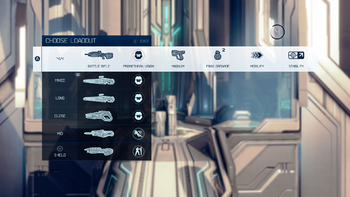 Loadouts are given an in-universe explanation. They are mandatory protocols issued to SPARTAN-IV personnel which dictate that they carry a primary weapon like a rifle, carry a secondary weapon like a pistol, choose grenades, equip an armor ability, choose tactical packages, and assign a support upgrade.
Players can rename their loadouts by entering any name they wish, up to 12 characters. This differs from Halo: Reach, in which names were chosen from a pre-selected list. Unlike service tags, loadout names are not censored against profanity, as they are not visible to other players.
In default gameplay, they are personalized choices of equipment and allow a Spartan to enter battles with pre-made weapon sets.
In a manner similar to Reach, and later, early Halo 2: Anniversary multiplayer, Halo 4 featured predetermined loadouts for players to use. These featured armor abilities such as hardlight shields and holograms, with assault rifles and DMRs respectively.
Primary weapons
[
edit
]
Secondary weapons
[
edit
]
Grenades
[
edit
]
Armor abilities
[
edit
]
Tactical packages
[
edit
]
Shielding (increases rate at which shields recharge)
Firepower (carry an additional primary weapon in place of a sidearm)
Mobility (unlimited sprinting ability)
Grenadier (carry up to three grenades of each type)
Resupply (retrieve grenades from dead allies and foes)
AA Efficiency (cuts AA recharge time in half)
Fast-Track (XP bonus, must have completed Pioneer Specialization)
Requisition (re-roll personal ordnance choices, must have completed Tracker Specialization)
Wheelman (increases vehicle durability and lessens the effect of an EMP, must have completed Operator Specialization)
Support upgrades
[
edit
]
Ammo
Awareness
Dexterity
Explosives
Sensor
Stealth
Drop Recon
Gunner
Stability
Nemesis
Loadouts can be edited for use in custom gametypes. In this situation, "power weapons" like sniper rifles and rocket launchers can be added. Additionally, options that the player hasn't unlocked in War Games can still be used, even Specialization-specific tactical packages and support upgrades.
Guest players are able to customize their loadouts with any and all options which have been unlocked by their host.
Halo: Spartan Assault

[

edit

]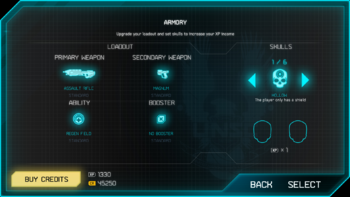 Through the UNSC Tactical Simulator, the player can choose a number of items with which he or she will start the campaign mission. Each level has a different set of choices. The primary weapon mainly offers a variety of UNSC or Covenant firearms. The secondary weapon slot, unlike in previous games, is not limited to small arms and includes many heavy weapons—the majority of them are only usable when purchased via in-game XP or real-world credits.
Different sets of armor abilities and boosters are also available; the former has a default choice and the other abilities need to be purchased, while the latter has no default selection and any booster must be purchased before use. Any purchased weapon, armor ability, or +booster— is only usable through a single mission and becomes locked again when the player completes or quits the level. If the player purchases an item and leaves the loadout screen without launching the mission, the sum will be recredited.
Primary weapon
[
edit
]
Secondary weapon
[
edit
]
Armor abilities
[
edit
]
Booster
[
edit
]
Damage Booster
Score Booster
Resistance Booster
Respawn Booster
Shield Booster
Halo 2: Anniversary

[

edit

]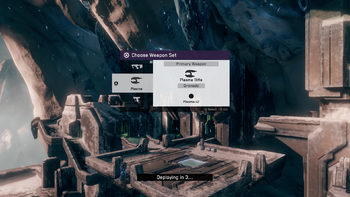 Loadouts received minimal use in Halo 2: Anniversary being in some social variations of gametypes present, such as Lockdown Slayer. While competitive gametypes would not use loadouts in the way Reach would, the player's starting weapons were curiously enough, dictated through a single loadout over native in game settings in some cases. Eventually, Anniversary's social gametypes would shift to using a single loadout.
Additional names
[
edit
]
A returning feature from Reach, loadouts can be tagged with predetermined names for custom game setups. These include:
Custom 1
Custom 2
Custom 3
Assault Rifle
Battle Rifle
SMG
Plasma Rifle
Magnum Pistol
Sentinel Beam
Carbine
Energy Sword
Shotgun
Boomstick
Rocket Launcher
Sniper
Elite
Zealot
Guardian
Hunter
Shadow
Enforcer
Spartan
Heretic
Assault
Marksman
Scout
Juggernaut
Pro Battle Rifle
Survivor
SWAT
Heavy
Grenadier
Random
Noob
Halo: Spartan Strike

[

edit

]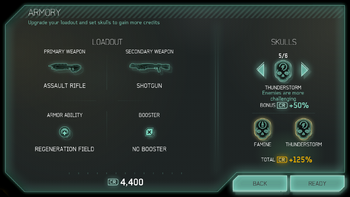 Following in Spartan Assault's footsteps, Spartan Strike offers a wide variety of weaponry to equip in loadouts, ranging from assault rifles to heavy weapons like rocket launchers. Alongside these weapons are armor abilities and boosts. Like Spartan Assault, weapons, armor abilities and boosters are single-use, only being available in the mission they're purchased for, and having to be purchased again if the player completes or quits the level.
Unlike Spartan Assault, Spartan Strike forgoes real world currency as a means of obtaining weapons and loadout armaments. Instead, a currency dubbed "credits", in-game currency, is able to be earned and used to purchase weapons. Adding score multipliers in the form of skulls will add a percentage to the credits earned.
Primary weapon
[
edit
]
Secondary weapon
[
edit
]
Armor abilities
[
edit
]
Booster
[
edit
]
Halo 5: Guardians

[

edit

]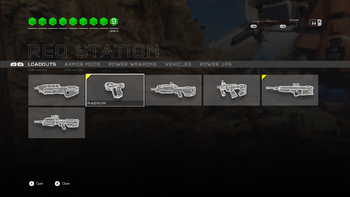 Loadouts in Halo 5: Guardians would return, being present in a state more akin to Halo 4 than Halo 2: Anniversary's more classic-styled approach, and would only be present in the game's Warzone offering. Like 4, 5 allowed the player to choose a primary and secondary weapon, however, the priority on sidearm secondaries is dropped in favor of a more free flowing approach, allowing the player to use two assault rifles, for example.
Individual grenade types cannot be chosen naturally, however, what type, and what amount a player spawns with can be through the use of armor mods. Rather than tactical packages and support upgrades, the aforementioned armor mods take their place, melding the two into a single chosen player trait, with multiple benefits per selection.
Weapons
[
edit
]
Armor mods
[
edit
]
Advanced Sensors (Increases motion sensor range, and basic movement from the user won't be shown on it)
Auto-Medic (Health and shield recharge rate is increased)
Death from Above (Increases ground pound's charge time, damage, knockback, and speed)
Upgraded Shields (Increased shield strength)
Frag Grenade Expert (Increased frag grenades in inventory)
Grenadier (Increased grenade damage, decreased grenade damage taken)
Reflex Enhancers (Weapon handling is increased, and the player can reload while sprinting)
Splinter Grenade Expert (Increased splinter grenades in inventory)
Wheelman (Vehicle damage resistance is increased, and vehicles can recover from EMPs quicker. Armor mod's effects stack per user)
Patrol Case (Increased ammo in loadout and requisitioned weapons)
Plasma Grenade Expert (Increased plasma grenades in inventory)
Speed Booster (Movement speed and jump height is increased)
Upgraded Thrusters (Thruster cooldown is shortened, sprint is faster, and shield recharge is available while sprinting)
Increased Strength (Melees and Spartan charge deal extra damage, the latter gains range)
Gallery
[
edit
]
Menu images
[
edit
]
Sources
[
edit
]