Halo 3: Mythic
From Halopedia, the Halo wiki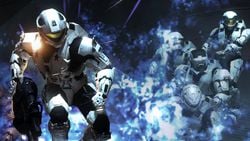 "In fact, Halo 3: Mythic comes with every Halo 3 multiplayer map and you can play them all right from the disc. No need to do any downloadin'. That's pretty Mythic if you ask me."
Halo 3: Mythic is the Halo 3 multiplayer disc that comes with Halo 3: ODST.[1] The disc includes Halo 3's multiplayer component, Forge, the Theater, and every Halo 3 multiplayer map, including three new maps: Heretic, Citadel, and Longshore, along with their respective achievements.
Overview
[
edit
]
Halo 3: Mythic is the complete multiplayer experience for Halo 3, allowing players to play matchmaking, custom games, Forge and Theater on any map in Halo 3 - unlike the similar Halo 2 Multiplayer Map Pack, which only installed its map selection to the console hard drive. The disc does not allow access to the Halo 3 campaign. The menu of the disc has a different background to that of the standard Halo 3, instead showing a lone Mark VI-clad Spartan on the map Citadel. The disc also features an updated armor customization menu visual, showing the player's Spartan or Sangheili with updated lighting and a backdrop in the command center on the level High Ground.
Included maps
[
edit
]
Halo 3: Mythic comes bundled with every map and map pack available for Halo 3, including the Mythic II Map Pack. Between the launch of Halo 3: ODST/ Halo 3: Mythic in September 2009 and February 2, 2010, the Mythic II pack was only available for play via the Halo 3: Mythic disc, though on February 2, it was made available on the Xbox LIVE marketplace for purchase. Following this, the majority of Halo 3 playlists were updated to require all downloadable content to allow players to search.
Artwork
[
edit
]
The artwork on the Halo 3: Mythic disc is a screenshot of Halo 3 multiplayer taken by Halo 3 player Ryan Wheeler. The image had been taken by Wheeler, and was selected for use due to Bungie's wish to use an iconic community image to represent the Mythic disc and the Road to Recon. Ironically, the screenshot was thought by Wheeler to be "mediocre". Wheeler was rewarded by Bungie with a care package including a signed Halo 3: ODST poster and was interviewed in the Bungie Weekly Update.[2]
Buying Halo 3: ODST is more cost efficient than buying all of the map packs individually, as you get the game with them.[3]
In the Custom Games lobby, scrolling through individual gamertags will make the Elite in the background's shoulder emblem change to same as that person's emblem.
Despite being a multiplayer disc, Mythic does have an accessible Campaign lobby, but it is only viewable on Xbox LIVE if one player has the campaign disc and switches to the Campaign lobby, though the user on Mythic would not be able to play.
The copyright text screen was changed, showing all of the available languages.

It also removes the game rating.
Gallery
[
edit
]
Sources
[
edit
]