Halo 2 Multiplayer Map Pack
From Halopedia, the Halo wiki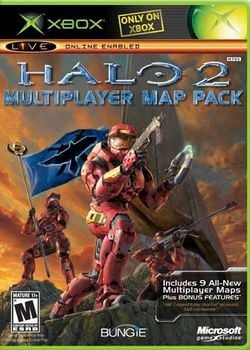 The Halo 2 Multiplayer Map Pack is a downloadable content collection for Halo 2. The $19.99 downloadable content collection set was released on July 5, 2005, and serves to allow players access to several DLC multiplayer maps without requiring the use of Xbox LIVE.[1] The pack includes the Bonus, Kiltacular and Maptacular map packs' content for a total of nine new levels - though does not include the maps Desolation and Tombstone due to the Blastacular Pack releasing in 2007.
The pack also includes Halo 2 Auto-Updates 1, 2 and 3 and several videos alongside a manual that goes into detail on the lore, layout and development of the maps included. The disc was produced for the original Xbox console, but is also backwards compatible on the Xbox 360, and is also included in the Halo Triple Pack alongside Halo: Combat Evolved and Halo 2. The Map Pack was not made available for the Halo 2 PC port due to the pack's content being included in the release by default.
The disc does not allow the player to play Halo 2, only installing the map and update content to the console's internal hard drive. As such, a regular copy of Halo 2 is still required to play the content. A similar disc, Halo 3: Mythic, was later released for Halo 3.
Features
[
edit
]
Halo 2 in-game content and Maps:
Other content:
Gallery
[
edit
]
Sources
[
edit
]