Halo: Starfighter
From Halopedia, the Halo wiki
This article is about the 343 Industries internal game pitch. For space fighter craft in the
Halo
universe, see
space fighter
.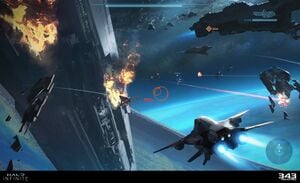 "This was a fun one. This is a mock up image of what a space fighting game would look like. A lot of the inspiration came from the Sabre Mission in Reach and how cool it would be to have that be a full game. Very early on during the development, we formed groups and had a week to make a playable prototypes of some of the things we would like to see in Halo. Can't remember everyone that participated but some were Ryan Roth, Brian May, David Heidhoff."
— Josh Kao discussing the prototype.[1]
Halo: Starfighter[2] was an internal pitch developed by a team within 343 Industries early during the development timeframe of Halo Infinite (c.2015-2018). During this period, multiple teams were formed within 343 to spend a week making playable prototypes of potential fun ideas to take Halo gameplay in the future. The prototype was intended to take the concepts behind the Sabre space fighter combat section in the Halo: Reach campaign level Long Night of Solace and expand upon them into a full game. Released concept art showcases a space battle between F-41 Broadswords and Is'belox-pattern Banshees with Phoenix-class colony ships in the background.[1]
The unveiling of this pitch by concept artist Josh Kao provides additional context to a poster showcased in a 343 Industries recruitment advertisement in June 2018.[3] The poster, partially-obscured, showcases a part of the word "Star" alongside what appears to be a UNSC pilot helmet overlaid on a Misriah Armory logo.
The Starfighter project was worked on by a number of 343 Industries staff including (though not limited to) Josh Kao, Ryan Roth, Brian May, Kevin Schmitt[4][5] and David Heidhoff,[1] alongside writer Jeff Easterling, who wrote some lore for the project.[4][6][7]
When initially uploaded to ArtStation, Josh Kao named his post "Halo: Last Star Fighter" in reference to the 1984 film The Last Starfighter,[1] before later updating the post name to the project's proper title.[8]
Gallery
[
edit
]
Sources
[
edit
]
^ a b c d e ArtStation, 343 Industries Team Pitch: Halo Star Fighter (Retrieved on Jan 17, 2022) [archive]
^ Twitter, Brian May (@Brian__May): "Also I think the pitch name was Halo: Starfighter? No planned tie-in to The Last Starfighter franchise as far as I know haha" (Retrieved on Jan 18, 2022) [archive]
^ Twitter, Halo (@Halo) (Retrieved on Jan 11, 2020) [archive]
^ a b Twitter, Kevin Schmitt (@kevindschmitt): "Wow, Nice to see this again. I was a part of that team. I think [Jeff Easterling] even wrote up some lore for it." (Retrieved on Jan 18, 2022) [archive]
^ Twitter, Kevin Schmitt (@kevindschmitt): "Highly doubt we will ever see Infinity again. People who went to E3 before 5 shipped were the only people to get close, but they didn't know it. ;) I worked on Halo Starfighter. Just a hackathon project, no real dev time." (Retrieved on Apr 15, 2023) [archive]
^ Twitter, Jeff Easterling (@GrimBrotherOne): "I'll look into it. I was on that project - was always an [internal]-only experiment, never meant for anything more. And whatever you are likely imagining is more than reality lol." (Retrieved on Jan 11, 2021) [archive]
^ Twitter, Jeff Easterling (@GrimBrotherOne): "Ahhh.... didn't realize that snuck in there. lol. From a project I was part of that likely won't ever see the light of day unfortunately. Maybe one day. (Not Infinite)" (Retrieved on Jan 11, 2021) [archive]
^ Twitter, Josh Kao (@JoshKaoArt): "I changed the name on my artstation, I knew that probably wasn't the name but for some reason I thought it was last star fighter probably because of the franchise haha." (Retrieved on Jan 18, 2022) [archive]