Boosters
From Halopedia, the Halo wiki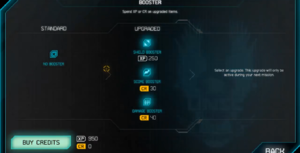 Boosters are gameplay enhancements featured in Halo: Spartan Assault.[1]
Overview
[
edit
]
Boosters are temporary gameplay enhancements that a player can choose in the loadout selection prior to launching a mission. Contrary to all other loadout options, Boosters are the only items that require some kind of spending—either XP earned through completing missions and Assault Ops, or credits purchased with real-world currency. Only one booster can be used per mission and the item will be locked again after the player completes or quits the level. If the player purchases a Booster but does not start the mission, and instead chooses to quit the loadout screen to return to the main menu, the sum will be recredited.
Boosters have a similitude to Halo 4's support upgrades and tactical packages, as Spartan Assault's loadout screen draws inspiration from the one featured in Infinity multiplayer. The Boosters' effects are also similar to the latter's multiplayer power-ups such as Damage Boost.
Items and prices may vary depending on levels and platforms.[2][3]
List of Boosters
[
edit
]
Damage Booster: increases the amount of damage inflicted by the player.
Score Booster: increases score by 35%.
Respawn Booster: increases respawn speed by 20%.
Shield Booster: increases the recharge rate of the player's energy shields.
Sources
[
edit
]
See also
[
edit
]