Armor customization (Halo 3: ODST)
From Halopedia, the Halo wiki
This article is about the armor customization in Halo 3: ODST. For other games, see
armor customizations
.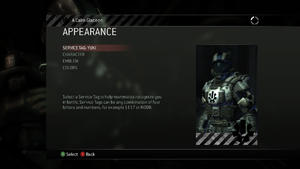 Halo 3: ODST features a simplistic armor customization where one can play as each member of the Alpha-Nine, with each having their own unique aesthetic Bungie-created armor in the game's Firefight mode. Players can choose primary and secondary armor colors, but the armor's main color remains the same (dark gray). Players can also choose whether or not to wear a helmet, unless they are playing as the Rookie or Sergeant Johnson, who cannot remove his helmet and cannot put one on, respectively. Choosing not to wear a helmet does not affect gameplay. Without a helmet, the player still has the same health and stamina, and they can still use VISR mode. Each character has their own unique lines of dialogue which play during gameplay, similar to the Firefight voices added in Halo: Reach as an unlockable item.
With the launch of Halo 3: ODST on PC and the start of Series 3: Recon in Halo: The Master Chief Collection, the ODST characters were added to the game's customisation system due to the launch of Firefight as part of the collection. The various characters were added to the season unlock table and can be purchased for

Season Points. The Master Chief Collection additionally features two skins not available in the base game; the injured Romeo model (as seen following the level NMPD HQ in-game) and a "bug-splattered" Buck, seen in Data Hive and Coastal Highway. The game also features Sergeant Johnson as purchasable for all players, previously restricted to a pre-order exclusive in the original game. Additionally, The Master Chief Collection features the helmet-less edition of each character as a separate unlock to their helmeted incarnation, unlike the original release which only had the helmet-on option as a toggle that was available at any time.
List of permutations
[
edit
]
Unlock requirements
[
edit
]
Firefight character unlock requirements
Character
Unlock (Halo 3: ODST)
Unlock (Halo: The Master Chief Collection)
Character (no helmet)
Unlock (Halo: The Master Chief Collection)

Jonathan Doherty
Unlocked by default
Unlocked by default
N/A

Romeo
Unlock the NMPD HQ achievement.
Series 3, Tier 6 ( 2)

Romeo (no helmet)
Series 3, Tier 10 ( 2)

Injured Romeo
N/A
Series 3 Challenge: Hurty Thirty

The Exchange ( 2)


Injured Romeo (no helmet)
Series 3 Challenge: Endure

The Exchange ( 5)


Dutch
Unlock the Uplift Reserve achievement.
Series 3, Tier 15 ( 2)

Dutch (no helmet)
Series 3, Tier 20 ( 2)

Mickey
Unlock the Kizingo Boulevard achievement.
Series 3, Tier 25 ( 2)

Mickey (no helmet)
Series 3, Tier 15 ( 2)

Buck
Unlock the Tayari Plaza achievement.
Series 3, Tier 37 ( 2)

Buck (no helmet)
Series 3, Tier 40 ( 2)

Bug Splattered Buck
N/A
Series 3 Challenge: Bug Bomb

The Exchange ( 2)


Bug Splattered Buck (no helmet)
Series 3 Challenge: Endure

The Exchange ( 5)


Dare
Unlock the Campaign Complete: Legendary achievement.
Series 3, Tier 42 ( 2)

Dare (no helmet)
Series 3, Tier 46 ( 2)

Avery Johnson (no helmet)
Pre-order Halo 3: ODST.
Series 3, Tier 50 ( 2)
N/A
Gallery
[
edit
]