Armor customization (Halo: Reach)
From Halopedia, the Halo wiki
This article is about the armor customization in Halo: Reach. For other games, see
armor customizations
.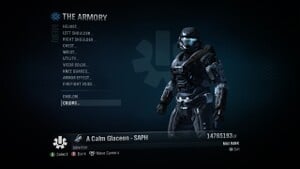 Armor customization returns in Halo: Reach, but with far deeper customization options than Halo 3. In Halo 3, unlocking armor permutations involved getting a certain achievement, or a group of achievements. In Halo: Reach, armor is mostly acquired by purchasing it with "credits" (cR) in The Armory, although some armor permutations may have to be unlocked first by reaching a certain rank. Credits are earned by winning or finishing games in the Campaign, Matchmaking, Custom game, Firefight, or Forge modes; by completing achievements; by getting commendations; or by completing daily and weekly challenges. As with Halo 3, every armor permutation in Halo: Reach is purely for aesthetic purposes and does not impact gameplay whatsoever.
With Halo: Reach being added to Halo: The Master Chief Collection, 343 Industries overhauled the game's unlock system. Credits are dropped in favor of a "battle pass"-esque manner of progression, with XP being earned contributing to levels that, when passed, grants the player a

Spartan Point. The Spartan Points can be used to unlock the next tier in the progression system. Halo: Reach unlocks in Halo: the Master Chief Collection are contained within Season 1: Noble, and Series 5: Anvil. Noble contains Reach's base unlocks present in the original title, while Anvil contains multiple planned, but cut armor permutations, including AKIS.
Overview
[
edit
]
In Halo: Reach, there are ten available slots for SPARTAN armor customization. The ten available slots customizable to Spartans feature the Helmet (can be "upgraded" with various gadgets, known as Helmet Variants), Left and Right Shoulder, and the Chest piece, which returned from Halo 3. The new slots for customization include Wrist, Utility, Visor Color, Knee Guards, Armor Effect, and Firefight Voice. In addition to armor customization, players can also choose Noble Six's gender. Any customization done to Noble Six will be reflected in the campaign's cutscenes.[1]
The game no longer allows players to use Elites as their default player model in matchmaking. Instead, Elites are limited to Elite Slayer, Invasion and Invasion Slayer gametypes. Elites are also usable in custom games (through a "Preferred Species" setting) and in Firefight. Armor customization for Elites has been largely simplified from Halo 3: players can only choose a complete armor set rather than making individual armor changes to their Elite player model. Unlocking each armor set requires the player to reach a certain rank for certain armor; for example, to obtain the armor of an Ultra Elite, the player must reach the rank of Warrant Officer[2]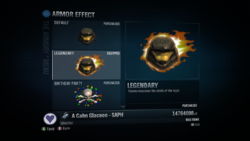 Additionally, the Limited and Legendary Editions of Reach include exclusive armor permutations and effects for the player's character. The Limited Edition comes with the "Sangheili Officer" Elite permutation, while the Legendary Edition includes the aforementioned permutation, along with a Spartan "Flaming Head" effect. However, if the player is equipped with the exclusive flaming helmet effect, the flames will be visible during gameplay but will not be shown in cinematics.[3] A redeemable token that gives the player access to an exclusive variant of the Recon helmet, featuring its own attachments, which was also bundled with the game to all sales made on the release date, and with all pre-orders outside of North America.
The last two sets of helmets for Halo: Reach are available through Halo Waypoint only. Using Waypoint will show the player how to unlock said armor pieces, which each have a base and two additional styles. The unlocks are linked to overall Halo Career Milestones (linked to universal Halo Gamerscore) and specialist achievements; for example, the Military Police helmet requires the user to have completed Halo: Reach on Normal difficulty, the second variant of the helmet requires the user to have the A Spoonful of Blamite achievement and Halo 3's Fear the Pink Mist achievement (accompanied by the right Career Milestone award and the base helmet variant).
Much like Halo 3's "Bungie" armor permutation that granted the player an exclusive flaming head, Halo: Reach featured a then Bungie-exclusive armor effect known as "Eternal", with flames that glowed a bright blue over the normal red-orange. This armor permutation was unobtainable originally, but was made available in 2011 through Bungie's iOS app.
Halo: The Master Chief Collection

[

edit

]
Halo: Reach's port on Halo: The Master Chief Collection forgoes the prior information, instead opting to have all in-game permutations be unlockable through its revised season amd rank system. All items from the original Halo: Reach game can be obtained in Season 1: Noble's progression system, including all previously-limited edition and exclusive content. Additionally, the UA/Multi-Threat and UA/Base Security chest pieces have been added into the game separate from their [W] counterparts already in Halo: Reach, featuring the same chest armor plates without the grenades.
In Series 5: Anvil of The Master Chief Collection's post-launch support, Reach saw the addition of several new helmets and chest armor pieces, never-previously usable in any edition of Halo: Reach. The two new helmets; AKIS and Mariner; are content cut from the original Halo: Reach game and intended for inclusion in the Anniversary Map Pack in 2011. These helmets both have three attachments. Additionally, six new chest armour pieces are to be added to Reach. Five of these are "[R]" (robot arm) variants of already available chest pieces, while the sixth - EXO/TSCS - is a completely new armor piece brought back from the cutting room floor similarly to the AKIS and Mariner helmets.
Series 8: Mythic added several new helmets to Halo: Reach. They're not based on cut or removed material from the original title, but are fully new assets, which are also shared with Halo 3.[4]
A second cut chest piece, named in game files as "Preserve", is known to exist with 343 Industries having mentioned bringing "multiple" chest pieces back from the cutting room floor, though its present status and if/when it will be brought into The Master Chief Collection is unknown.
List of customizations
[
edit
]
Spartan
[
edit
]
Elite armor
Armor
Unlock (Halo: Reach)
Unlock (Halo: The Master Chief Collection)

Minor
Unlocked by default
Unlocked by default

Spec Ops
Corporal
Series 1, Tier 8, 1

Ranger
Sergeant
Series 1, Tier 21, 1

Ultra
Warrant Officer
Series 1, Tier 45, 1

Zealot
Captain
Series 1, Tier 50, 1

General
Major
Series 1, Tier 65, 1

Field Marshall
Lieutenant Colonel
Series 1, Tier 79, 1

Officer
Halo: Reach Xbox 360, Limited and Legendary editions only
Series 1, Tier 98, 1
The current cost of all the armor pieces in the armory combined is 9,634,201 cR.
In gameplay, the mandibles of an Elite will protrude out after its death. This is most noticeable with the Ultra, Spec Ops and Ranger permutations as the mandibles will stick out of the helmet.
The player's combat knife, along with any armor abilities or armor effects, will not be displayed during cutscenes in Halo: Reach.
Armor customization returns in Reach's port for Halo: The Master Chief Collection, however, there are discrepancies between the Unreal Engine 4 renders and in-game customization. Notably, the soft case the mounts on the lower back of the Assault/Commando chest piece is missing in the armor customization menu, though it still appears in gameplay. Conversely, the smaller cases which appear in the same location on the Tactical/Recon chest piece can be seen in the armor customization menu, but do not appear in gameplay.
In Halo games starting from Halo: Reach, initial spawn points used in Forge show a Spartan-III holding a magnum. The Spartan is male, wears the base MARK V [B] helmet, a CQC pauldron for his left shoulder, a Mark V pauldron for his right, the default Mark V [B] chest, the TACPAD on his wrist, the TACTICAL/TRAUMA KIT as a utility and FJ/PARA knee guards. Due to a singular color being used for the model, the Spartan's visor and armor colors are unknown.
Gallery
[
edit
]
Developmental images
[
edit
]
Halo: Reach Multiplayer Beta

[

edit

]
A multitude of Spartans and Elites in a game of Invasion, with players utilizing basic customization options.
Halo: Reach

[

edit

]
The exclusive "flaming helmet" Spartan armor effect included in the Halo: Reach Legendary Edition, much like the Bungie armor from Halo 3.

A player utilizing a basic, un-customized Spartan for Reach's campaign mission, "Nightfall".

A Spartan being assassinated by a player utilizing the Elite Minor armor option on Spire.

Spartans wearing AKIS and Mariner helmets in promotional material for Series 5: Anvil, for Halo: The Master Chief Collection.
Sources
[
edit
]