Halo: The Master Chief Collection multiplayer ranks
From Halopedia, the Halo wiki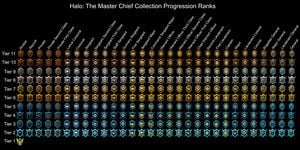 Halo: The Master Chief Collection employs two different ranking systems across its various components. At launch, the game included a skill-based system based on the original Halo 2 for competitive multiplayer, though the launch of the game on PC platforms has since seen an update to include an additional ranking scheme based on unlocking cosmetic content via the Seasonal updates.
Skill-based ranks
[
edit
]
Main article: Rank (Halo 2)
The skill-based rank structure was employed by the Master Chief Collection at launch and now employed only in the competitive playlists, and is identical in every way to the rank structure employed in the original release of Halo 2 - including XP requirements, gains and losses.[1] The system is represented as a numeric value of 1-50, with the maximum seven ranks given special icons to denote their status. Due to its nature as an indicator of player skill, ranks can increase or decrease depending on player performance, and are thus used to help with skill-based matchmaking to ensure similarly-skilled teams. This rank structure is only employed in competitive playlists, and is determined on a per-playlist basis.
Behind-the-scenes, rank is determined by assigning XP awards for winning or losing a match. Defeating teams of higher-ranked players will award more XP, while losing deducts XP. This XP total is added up then divided across the entire winning team, ensuring that teamwork is crucial to levelling up rather than lone wolf play.[2]
For a full explanation of the rank system, values and structure used in Halo 2 (and thus, The Master Chief Collection), see here.
Updated Season rank structure
[
edit
]
With the addition of Halo: Reach to the Master Chief Collection and release on PC platforms in December 2019 and the start of Season 1: Noble, a new multiplayer rank structure was released to coincide with the season's unlock scheme and bear more resemblance to the original rank structure used in the base Halo: Reach game. In this new rank scheme, players can earn XP for completing multiplayer matches, earning medals and - as of Series 2 - completing challenges. Once a new rank is unlocked for the first 100 ranks, a

Season Point is granted, which can be used to purchase cosmetics such as Halo: Reach armor permutations or skins. Once rank 100 is attained, challenges are the only way to obtain

Season Points.
Within the new rank scheme, there are 30 ranks from Rookie to General to progress through. Once General is reached, the player can then restart their rank progress by starting a new "Tour" (similar to systems such as Prestige in Call of Duty or Regeneration in Titanfall), resetting their rank down to Rookie again and going through the level-up process again. Each Tour increases the XP requirements needed to level up, but does not take away any unlocks or Season Points earned by the player. Each rank has its own icon displayed in the menus, and each Tour has a different shield that displays behind the icon.
Rank and tour icons
[
edit
]
This section lists all thirty ranks, all eleven tours and all of their icons individually. See the tables in the below section for each icon combined with tour shields.
Rank icons
[
edit
]
Tour shield icons
[
edit
]
Rank XP requirements
[
edit
]
The XP requirements for each tour are listed below.[3][Note 1]
Gallery
[
edit
]
Sources
[
edit
]
External links
[
edit
]
 

Multiplayer ranking in the Halo games

First-person shooter ranks

Real-time strategy ranks