Armor customization (Halo 4)
From Halopedia, the Halo wiki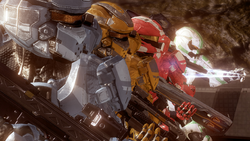 Armor customization in Halo 4 allows players to customize their SPARTAN-IV player model. New armor sets can only be unlocked by reaching certain ranks and completing specific in-game commendations, Challenges, or Halo Waypoint goals.[1]
Overview
[
edit
]
Halo 4 provides armor customization akin to previous Halo titles, featuring the ability to swap specific armor pieces on the player's Spartan-IV. The armor is based upon the MJOLNIR Powered Assault Armor [GEN2] model, with some variants being upgrades of previous generational incarnations. Customization slots remain mostly the same as the game's predecessor, Halo: Reach, however, wrist and leg utilities are replaced with full wrist and leg armor customization, and armor effects don't make a return. The player can also customize their armor with specific skins, including camouflage patterns and other, more ostentatious designs.
As stated above, common armor sets can be unlocked by reaching certain a Spartan Rank (SR), while rarer and more elaborate designs require the specific completion of commendations, Challenges, or Halo Waypoint goals.[1] The release of the Champions Bundle brought an additional four armor sets and one skin to use for players who purchased the DLC, though said armor will display as default Recruit armor in the game's Spartan Ops mode due to technical reasons.
In a first since Halo 2 in 2004, Halo 4 removes the player's option to use Elites in multiplayer, as an emphasis was placed on "Infinity mode" which focuses on SPARTAN-IVs.[2]
Halo: The Master Chief Collection

[

edit

]
On launch, Halo 4's port on Halo: The Master Chief Collection only allowed for limited armor customization, and the player was limited to choosing a full set of armor and colors, with no ability to swap specific armor pieces, armor skins, or visor colors, while the player was also locked to a red visor. Likewise, the Champions Bundle armor did not return, and wasn't available to use. This system was employed at launch due to the difficulty of having to run several game engines for customization in the menus.
Starting with the release of Halo: Reach in the collection, it and the games leading into Halo 4 began to receive, or were updated to have full armor customization with the implementation of the menu's Unreal Engine 4 component, with Halo 4 receiving its own customization update upon the game's launch on PC in November, 2020. This update was first alluded to with Halo 3: ODST's release, as a placeholder Unreal Engine 4 render was added to the game's menu. With Halo 4's flight and update, full customization was restored to the player, including armor skins, and visor colors. Champions Bundle armor wasn't included on Halo 4's launch, but was later included alongside Armor effects with the release of Season 7: Elite in 2021.[3] Season 7 will also include the introduction of the Keystone helmet, inspired by the design of the Mark VII design included in Halo Infinite.[4]
List of customizations
[
edit
]
Armor variants
[
edit
]
List of unlock prerequisites
[
edit
]
Production notes
[
edit
]
Pre-release builds of Halo 4 featured some slight differences in armor texturing, with the neutral white lights present on armor being red. In addition, base armor texturing was also altered for the game's final build.
As seen in Awakening: The Art of Halo 4, and some concept renders done by Liquid Development, the Mark IV and Hayabusa armor were planned for, but ultimately cut from Halo 4.

Additionally, unique leg armor for the Soldier armor wound up being cut, along with a set of wrist armor seen on renders for the Gungnir armor.
While not an armor set specifically, promotional images for the CIO armor's "Ruin" skin also included the pattern on the Inner-plated wrist armor and Over-locking leg armor. The final release version of the "Ruin" skin only added the skin on the CIO's helmet, chest, and shoulder armor, leaving out the wrists and legs. Likewise, pre-release images of Solace show a Locus armored Spartan with a helmet skin not seen in the final game.
General trivia
[
edit
]
Xbox Live Guest accounts are able to customize their appearance with any and all armor pieces unlocked by their host. This differs from previous titles, in which guests could change their emblem, colors, service tag and gender, but could not customize their armor.
Gallery
[
edit
]
Menu images
[
edit
]
Screenshots
[
edit
]
Sources
[
edit
]
External links
[
edit
]