UTIL attachments
From Halopedia, the Halo wiki
UTIL is a series of supplemental armor attachments and accessories compatible with the MJOLNIR Powered Assault Armor.[1]
Known modules and configurations
[
edit
]
Desert Patrol
[
edit
]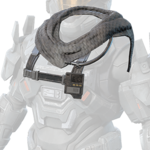 The Desert Patrol harness pack (also designated as Tactical/Patrol) [2] includes atmospheric condensers for passive water harvesting.[3]
ENAV Beacon
[
edit
]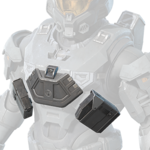 Manufactured by Emerson Tactical Systems, the ENAV Beacon features emergency navigational transponders that are compatible with all civil and military networks.[4]
KHILPK Cooling Unit
[
edit
]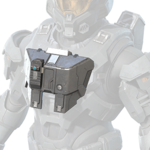 Manufactured by Imbrium Machine Complex, the KHILPK Cooling Unit is a chiller and radiator that extends operational time in high-temperature environments.[5]
In-game information
[
edit
]
The UTIL armor types are unlockable as armor customization options in Halo Infinite.
Mark VII core
[
edit
]
| Chest | Manufacturer | Lore | Rarity | Unlock Requirements |
| --- | --- | --- | --- | --- |
| UTIL/ENAV Beacon | Emerson Tactical Systems | Emergency navigational transponders, compatible with all civil and military networks. | Rare | Season 01: Heroes of Reach Battle Pass level 21 (Free) |
| UTIL/KHILPK Cooling Unit | Imbrium Machine Complex | Chiller and radiator that extends operational time in high-temperature environments | Rare | Purchase "Zvezda Armor Set" Bundle from the Shop for 2,000 cR |
Mark V[B] core
[
edit
]
| Chest | Manufacturer | Lore | Rarity | Unlock Requirements |
| --- | --- | --- | --- | --- |
| UTIL/Desert Patrol | Imbrium Machine Complex | This harness pack includes atmospheric condensers for passive water harvesting. | Epic | Season 01: Heroes of Reach Battle Pass level 38 (Premium) |
List of appearances
[
edit
]
Sources
[
edit
]
List of armor permutations by game titles
List of armor permutations by generation
 

GEN3

Mark variants

Variants based on GEN1

Variants based on GEN2

New variants

Supplement armor

Other