Breach attachments
From Halopedia, the Halo wiki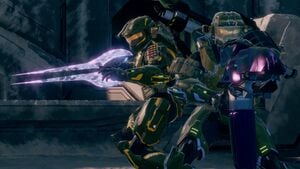 "Breach" covers a series of supplemental armour attachments designed for use with the MJOLNIR Powered Assault Armor/Mark VI suite.[2]
Overview
[
edit
]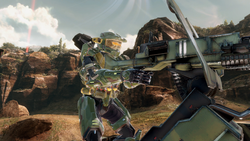 Design details
[
edit
]
Breach attachments take the form of various up-armour configurations for the Mark VI armour suit. They incorporate additional armour for the visor, alongside various additional external attachments. Two known configurations exist;
Link: Incorporates an AN/PCK-221 FARNDALE Command Network Module, alongside various additional armour upgrades.[3]
Scout: Incorporates an AN/PZY-990T STARLIGHT remote sensor on the side of the helmet, alongside various additional armour upgrades.[4]
Development history
[
edit
]
The "Breach" development program was initiated close to the close of the Human-Covenant War, during the era between the introduction of the Mark VI platform and the full production of the GEN2 platform. They were field-tested by Team Omega to successful results, ultimately resulting in developments later applied to the full GEN2 and GEN3 production runs.[2]
In-game information
[
edit
]
The Breach helmet attachments are available for unlock as helmet options in Halo 2: Anniversary multiplayer. They were added to Halo: The Master Chief Collection in the Series 9 update.[5][6]
Shoulders
Description
Unlock requirements
(Halo 2: Anniversary)

Breach Link
When HIGHCOM needs eyes-on a critical incident, they call the Spartans.
The Exchange

Breach Scout
Eliminating Covenant holdouts and Flood hives requires a keen sensors and specialized up-armor.
The Exchange
Production notes
[
edit
]
The internal unlock files for the armor within Series 9 refer to the Breach armor sets as "BREACH A" and "BREACH B". To create "A", the player must combine the Breach Scout helmet, the TAC/SRV-III shoulders, and the UA/KOTIN chest piece. To create "B", the player must combine the Breach Link helmet, the UA/WAYLAND shoulders, and the UA/GRT78 chest piece.[7]
Gallery
[
edit
]
List of appearances
[
edit
]
Sources
[
edit
]
List of armor permutations by game titles
For a complete list, check out our armor category.