Battle Pass
From Halopedia, the Halo wiki
"WE'VE GOT A NEW CONTACT, UNKNOWN CLASSIFICATION!"

This article may contain information based upon upcoming, unreleased, or recently-released content, and may not be fully complete. Additionally, the information may be subject to change if it is based on pre-release material. Please update it as soon as any relevant and accurate material is available.
The Battle Pass is a progression system for unlocking player customization in Halo: The Master Chief Collection and Halo Infinite.[1][2] Every season will introduce a new Battle Pass, which contains different options for player customizations.
Halo: The Master Chief Collection

[

edit

]
Main article: Halo: The Master Chief Collection
In Halo: The Master Chief Collection, the different tiers of the Battle Pass can be unlocked through Season points, which could only be earned by completing in-game Challenges and by progressing through the first 100 ranks in the game's rank scheme.[1] Season points are a purely in-game currency, and cannot be bought through real-world purchases.
Please see the respective Season pages for their Battle Passes.
List of Seasons

Season
Battle Pass Content
Start Date

Season 1: Noble
Armor permutations and Firefight voices for Halo: Reach
December 3, 2019

Season 2: Spark
July 14, 2020

Season 3: Recon
September 21, 2020

Season 4: Reclaimer
November 16, 2020

Season 5: Anvil

2 Mjolnir helmets and 6 Mjolnir chest armor for Halo: Reach
2 Mjolnir Techsuits, 12 Mjolnir armor sets, 26 weapon skins, and 1 vehicle skin for Halo 3
10 Nameplates

January 27, 2021

Season 6: Raven

3 Techsuits, 10 Mjolnir armor sets, 6 back accessories, 14 visor colors, 9 weapon skins, and 12 vehicle skins for Halo 3
24 Nameplates

April 7, 2021

Season 7: Elite

7 Sangheili armor sets, 7 Type-1 energy sword skins, 7 techsuits, and 4 vehicle skins for Halo 3
10 vehicle skins for Halo: Combat Evolved
Champions Bundle, 16 weapon skins, and 6 armor effects for Halo 4

June 23, 2021
Season 8: Mythic
TBD
TBD
Season 9
TBD
TBD
Season 10
TBD
TBD
Halo Infinite

[

edit

]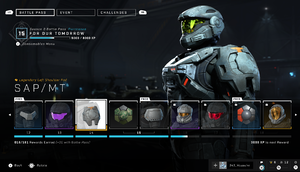 Main article: Halo Infinite
In Halo Infinite, every season will introduce a new Battle Pass, but previous Battle Passes will remain available for purchase, regardless of the current season.[2] Each Battle Pass will include a track for free rewards and a premium track, that latter of which requires purchase to unlock rewards. Rewards include armor permutations as well as armor coatings.[3] Players can select an active Battle Pass to make progress and unlock the tiered rewards, all of which will be exclusive to the Battle Pass and unavailable to obtain through other means.[2] Additionally, players will be able to use Consumables, such as XP Boosts and Challenge Swaps, to expedite progress on the Battle Pass.[4]
Sources
[
edit
]