Season 02: Lone Wolves
From Halopedia, the Halo wiki
"WE'VE GOT A NEW CONTACT, UNKNOWN CLASSIFICATION!"

This article may contain information based upon upcoming, unreleased, or recently-released content from Halo Infinite, and may not be fully complete. Additionally, the information may be subject to change if it is based on pre-release material. Please update it as soon as any relevant and accurate material is available.
| | | |
| --- | --- | --- |
| " | A red carpet and unexpected guests. | " |
Previous:

Next:

Lone Wolves

Start date:

End date:

Number of tiers:

100[2]

Total unlock cost:

Pass purchase cost:

1,000 cR (Premium Battle Pass)
2,800 cR (Premium Pass Bundle)

Includes content for:

 
Season 02: Lone Wolves is the second season of Halo Infinite's multiplayer. The season debuted on May 3, 2022 and is scheduled to end on November 7, 2022. This season is expected to see the release of cooperative campaign network play and campaign mission replay in late August 2022.[2] The season will focus on the theme of "lone wolf" Spartans, with the season's ongoing story cinematics and events focusing on Spartans Laurette Agryna, Sigrid Eklund and Hieu Dinh.[1]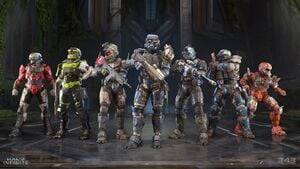 Season content
[
edit
]
100-tier battle pass[2]
New armor
New multiplayer maps
New multiplayer modes
Narrative events
New features
Various quality of life improvements[2]
Content overview
[
edit
]
XP Boosts, Challenge Swaps, and Credits
[
edit
]
General Customization
[
edit
]
3 Backdrops: Broken Dreams, Cross Purposes, Mantle
2 Nameplates: Fireteam Hellhound, Fireteam JorogumO
2 Stances: Armed Respite, Stoic
2 Armor Emblems: Fireteam Hellhound, Fireteam Jorogumo
2 Weapon Emblems: Fireteam Hellhound, Fireteam Jorogumo
2 Weapon Coatings: Power Projection, Olympus Tactical
2 Vehicle Emblems: Fireteam Hellhound, Fireteam Jorogumo
4 Vehicle Coatings: Alabaster Cognac, Bistre Mortuum, Catawba Liver, Bluewood Bole
3 AI Colors: High Charity, Searing Wind, Moe Delight
1 AI Model: Iratus
3 Charms: Lone Wolf, Evolved, Medkit
1 Armor Effect: Packmaster's Glare
1 Kill Effect: Survival of the Fittest
1 Mythic Armor Effect Set: Muntmaster's Trail
Mark VII Core
[
edit
]
4 Helmets: BRAWLER, LINEBREAKER, RAMPART, and VOLANT
3 Helmet Attachments: MK17 MOD1 CBRN/KUZNETS, TAS/ORCUS, HUL[5X]/BNR/ECHELON
3 Chests: TAC/M2497 POUCHES, TAC/PARADISE RIG, TAC/PACKRAT RIG
6 Shoulder Pads: UA/CAMBRA, UA/TOKTU, UA/HYBL, UA/VORENUS, UA/TOMRIS, UA/DEMING
1 Wrist: Deaconcrest Shield Node
2 Knee Pads: UA/Type DP, UA/Type BF
1 Utility: WATSMIL Ammo Pouch
2 Gloves: Mirus, Ank
4 Armor Coatings: Alabaster Cognac, Bluewood Bole, Old Voodoo, Sizzling Coral
3 Visors: Unyielding Will, Charging Armadillo, Tactical Modalities
Rakshasa Core
[
edit
]
1 Armor Core: Rakshasa
4 Helmets: Akis II-GRD, Artaius, Rasetsu, and Stribog
5 Helmet Attachments: HUL-I/RS/ROSEKEY, UA/AZHANTI, TAS/LANTIFRID, METASHAK TALLYHO, TAS/PATTON
3 Chests: FCI-I/SPDR/TRAPDOOR, UTIL/COOLPACK, AAP/HEARTPLATE
6 Shoulder Pads: Irongrip Rails, UTIL/COOLSHOT, UTIL/TECCNIQE IOTA-12, Banished Trophy, Skullbearer Trophy
1 Wrist: XCUDO NXS
3 Knee Pads: XCUDO KNEX, SPORTSTEK MODEL 21, UA/Type MEP[B]
4 Utilities: UTIL/RIPRAIL, UTIL/MEDKIT, Brace of Blades, UTIL/Entrenching Tool
1 Glove: LITEKNUCKLE
6 Armor Coatings: Black Coral Bone, Deep Stalker, Catawba Liver, Blazing Gunmetal, Byzantium Dream, Ecru Abbey
3 Visors: Mentor's Gift, Controlled Growth, Fireblood Rift
2 Armor Kits: Sigrid Eklund and Hieu Dinh
Gallery
[
edit
]
Key art
[
edit
]
Promotional images
[
edit
]
Halo Infinite's 2022 content update roadmap, featuring Season 02 and Season 03.
Concept art
[
edit
]
Screenshots
[
edit
]
Sources
[
edit
]
 

List of seasons, events, updates, patches for Halo Infinite

Misc

Italics indicates current season