Season 05: Reckoning
From Halopedia, the Halo wiki
"WE'VE GOT A NEW CONTACT, UNKNOWN CLASSIFICATION!"

This article may contain information based upon upcoming, unreleased, or recently-released content from Halo Infinite, and may not be fully complete. Additionally, the information may be subject to change if it is based on pre-release material. Please update it as soon as any relevant and accurate material is available.
Previous:

Season 05: Reckoning

Start date:

End date:

January 30, 2024

Number of tiers:

50

Total unlock cost:

Pass purchase cost:

1,000 cR (Premium Battle Pass)
2,800 cR (Premium Pass Bundle)

Includes content for:

 
Season 05: Reckoning[2] is the current season of Halo Infinite, which launched on October 17, 2023.[1]
Narrative
[
edit
]
Ancillary materials
[
edit
]
Season Content
[
edit
]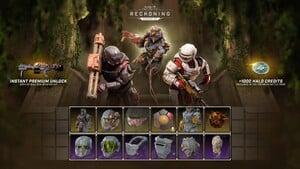 General overview
[
edit
]
50-tier Battle pass
New armors
New weapon model for the CQS48 Bulldog, M392 Bandit, M41D SPNKr, MA40 assault rifle, and SRS99-S7 AM sniper rifle
New sandbox items:

M392 Bandit EVO, which is the new default starting weapon in Ranked modes.

New multiplayer maps
New multiplayer modes:
Events evolved into "Operations", with two being featured in Season 5:
Various quality of life improvements

Cross-core helmets
Custom Game Browser improvements
Earnable XP in Custom Games
Forge updates[3]

Forge AI toolkit: Normal enemies, High Value Targets, and Campaign Bosses
Two Forge canvases: Barrage and Permafrost
New Banished and Winter objects
Forge objects collision toggle
Global Material Swatches for Forge Objects
Light Generation, Local Light, Reflection Volume, and PC Control Improvements
Massless Children PreFab property
Scalable Blocker Objects
Skull nodes

Menu improvements
Ranked improvements: Demotion Protection, changes on Ranked Extraction, and Penalty changes for Uneven Ranked Matches
Several coatings from past seasons updated to be multi-core (94 Armor Coatings, 45 Weapon Coatings, and 24 Vehicle Coatings)
Store updates
Ultimate Challenge Rewards bundled instead of rewarding individual customization items
Updated Career Rank rewards: reaching the "Hero" ranks unlocks the Infinite Mark VI Armor Kit
Content overview
[
edit
]
XP Boosts, Challenge Swaps, and Credits
[
edit
]
XP Boosts
Challenge Swaps
1,000 Credits
General Customization
[
edit
]
9 Nameplates: Bonecrusher, Feline Spooky, Ghoulie Grunts, Ghoulish Glee, Ghotic Grunt, Green EOD, Pumpkin Trouble, Reaper Grunt, Revenant of Reach
9 Armor/Vehicle/Weapon Emblems: Bonecrusher, Feline Spooky, Ghoulie Grunts, Ghoulish Glee, Ghotic Grunt, Green EOD, Pumpkin Trouble, Reaper Grunt, Revenant of Reach
8 Armor Coatings: Blood Resonance, Corrupter, Devil Tiger, Pumpkin Lord, Pumpkin Spice, Sanguine Bond, Shadow Drift, Tarnished Olympus
4 Weapon Coatings: Blood Resonance, Blighted Steel, Shaded Showdown, Tipping Point
2 Vehicle Coatings: Border Knight, Glorious Destiny
6 Weapon Charms: Crimson Scythe, Haunted Halloween, Ghoulish Gourd, Ghoulish Grunt, Mini Magnum, Sword and Key
1 Armor Effect: Cruel Tread
4 Visors: Calavera Epsilon, Grey Mist, Hazard Stripes, Hex Pumpkins
1 Mythic Effect: Rotten Vitality
1 Weapon Model: Defiled Bulldog
Mark V[B] Core
[
edit
]
5 Helmet Attachments: MK40 CBRN, FC/Alfa, UA/CPU-001, Sightless Eyes, TAS/GUNGNIR MOD 3
3 Chests: Defiled Hope, UA/Boarding Plate, UA/Test Article 34
5 Shoulder Pads: Defiled Plate, SAP/AAPH, SAP/ELT, SAP/SHO, TAC/Crys Flatblade
2 Wrists: Defiled Touch, UA/T2A2 Bracer
1 Glove: Challenger II
3 Kneepads: Defiled Cap, UA/Type KLT, UA/Type RWR
3 Utilities: M15 Hardcase, UA/Plate II, UA/Type 6O
1 Armor Kit: Rusalka
Operations
[
edit
]
Please see the respective operations pages for their Operation Passes.
List of Operations

Season
Operation Content
Duration

Combined Arms
20-Tier Operation Pass with exclusive customization options for the Rakshasa armor core
14 November - 19 December 2023

Winter Contingency III
20-Tier Operation Pass with exclusive customization options for the Mark VII armor core
19 December 2023 - 30 January 2024
Battle Pass
[
edit
]
Tiers 1 to 10
[
edit
]
Level
Tier
Unlocks
Images
1
Free
XP Boost
Premium
2
Free
Premium
Hip Attachment - UA/PLATE II
3
Free
Weapon Charm - Haunted Halloween
Premium
4
Free
Premium
200 Credits
5
Free
XP Boost
Premium
Helmet - Security
6
Free
Premium
7
Free
Premium
8
Free
Premium
9
Free
Premium
10
Free
Premium
Helmet Attachment (Mark V(B)) - UA/CPU-001
Tiers 11 to 20
[
edit
]
Level
Tier
Unlocks
Images
11
Free
Premium
12
Free
Premium
13
Free
Premium
14
Free
Helmet - GUNGNIR
Premium
15
Free
Helmet - EOD
Premium
16
Free
Premium
17
Free
Premium
18
Free
Premium
Challenger II
19
Free
Helmet Attachment (Mark V(B)) - TAS/GUNGNIR MOD 3
Premium
20
Free
Chest - Defiled Hope
Premium
Tiers 21 to 30
[
edit
]
| Level | Tier | Unlocks | Images |
| --- | --- | --- | --- |
| 21 | Premium | | |
| 22 | Premium | | |
| 23 | Premium | Helmet Attachment (Mark V(B)) - MK40 CBRN | |
| 24 | Premium | 200 Credits | |
| 25 | Premium | | |
| 26 | Premium | | |
| 27 | Premium | | |
| 28 | Premium | Helmet Attachment (Mark V(B)) - FC/ALFA | |
| 29 | Premium | | |
| 30 | Premium | | |
Tiers 31 to 40
[
edit
]
| Level | Tier | Unlocks | Images |
| --- | --- | --- | --- |
| 31 | Premium | | |
| 32 | Premium | | |
| 33 | Premium | | |
| 34 | Premium | 200 Credits | |
| 35 | Premium | | |
| 36 | Premium | | |
| 37 | Premium | | |
| 38 | Premium | | |
| 39 | Premium | 200 Credits | |
| 40 | Premium | | |
Tiers 41 to 50
[
edit
]
Level
Tier
Unlocks
Images
41
Premium
Kneecap (Mark V[B]) - Defiled Cap
42
Premium
Left Shoulder (Mark V[B]) - Defiled Plate
Right Shoulder (Mark V[B]) - Defiled Plate
43
Premium
Helmet - Defiler
44
Premium
200 Credits
45
Premium
Mythic Effect - Cruel Tread
46
Premium
Wrist (Mark V[B]) - Defiled Touch
47
Premium
Helmet Attachment (Mark V[B]) - Sightless Eyes
48
Premium
Visor - Calavera Epsilon
49
Premium
Armor Effect - Rotten Vitality
50
Premium
Armor Kit (Mark V[B]) - Rusalka
Armor coating - Corrupter
Drop Pods and Patch Notes
[
edit
]
Gallery
[
edit
]
Promotional images
[
edit
]
Screenshots
[
edit
]
Sources
[
edit
]