Shop
From Halopedia, the Halo wiki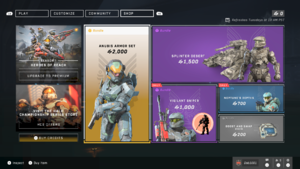 The Shop, also known as the Store, is a rotating storefront featured in Halo Infinite, in which cosmetic items can be purchased with Halo Credits. The Store currently has two sections: "Daily Offers" (despite the name, the selection only updates weekly), and "HCS Offers."[1] The shop can be accessed on the Halo Waypoint.[2]
Bundles
[
edit
]
Main article: Shop Bundles
The game features several Bundles of content, to view them all visit this page here.
Halo Credit Bundles
[
edit
]
Gallery
[
edit
]
Sources
[
edit
]
^ Halo Waypoint - News, HCS 2021-2022 Season Reveal (Retrieved on Nov 15, 2021) [archive]
^ Halo Waypoint - Service Records, Halo Infinite - Shop (Retrieved on Nov 27, 2021) [archive]
^ Xbox - Store, 500 Halo Credits (Retrieved on Nov 27, 2021) [archive]
^ Xbox - Store, 1,000 Halo Credits (Retrieved on Nov 27, 2021) [archive]
^ Xbox - Store, 2,000 Halo Credits +200 Bonus (Retrieved on Nov 27, 2021) [archive]
^ Xbox - Store, 5,000 Halo Credits +600 Bonus (Retrieved on Nov 27, 2021) [archive]
^ Xbox - Store, 10,000 Halo Credits +1,500 Bonus (Retrieved on Nov 27, 2021) [archive]