Armor permutations (Halo Infinite)
From Halopedia, the Halo wiki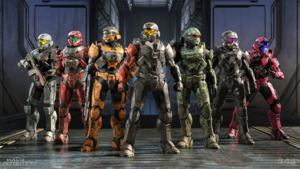 Known in-game as the Armor Hall, armor permutations in Halo Infinite allow players to customize their Spartan player model. Inspired by Halo: Reach's armor customization, Halo Infinite's armor customization will allow players to change the Helmet, Helmet Attachment, Chest Gear, Shoulder Pads (left and right), Gloves, Knee Guards, Wrist Gear, Utility, Visor Color, Prosthetics, Voices, Armor effects as well as other components yet to be announced.[1][2]
Players can earn armor permutations pieces during gameplay, challenges, in-game events, and purchase.[2]
Overview
[
edit
]
Halo Infinite has a greatly expanded array of player customization compared to previous entries. Halo Infinite lets the player choose their "Armor core" which is the foundation of their armor where all attachments such as knee guards, gloves, and shoulders are placed.
List of permutations
[
edit
]
Armor variants
[
edit
]
Helmets
Helmets
Helmet
Unlock
Air Assault
TBD
Anubis
TBD
Aviator
TBD
Cavallino
TBD
Celox
TBD
Commando
TBD
CQB
TBD
CQC
TBD
EOD
TBD
EVA
TBD
EVA(C)
TBD
Grenadier
TBD
GUNGNIR
TBD
Mark V
TBD
Mark V(B)
TBD

Mark VII
TBD
ODST
TBD
Scout
TBD
Soldier
TBD
Trailblazer
TBD
Yoroi
Season 1: Heroes of Reach
Armor cores
Armor cores
Armor core
Unlock
Mark V(B) - Reach
TBD
Mark VII
TBD
Mark VII - Olympus
TBD
Yoroi
Season 1: Heroes of Reach
Chests
Chests
Chest
Unlock
TAC/Paradise Rig
TBD
Shoulders
Shoulders
Shoulder
Unlock
Commando
TBD
CQC
TBD
ODST
TBD
EVA
TBD
Grenadier
TBD
JFO
TBD
Jump Jet
TBD
SAP/GUNGNIR
TBD
SAP/M
TBD
SAP/MT
TBD
SAP/Recon
TBD
SAP/SNP
TBD

UA/Agathius
TBD
UA/Gordius
TBD
UA/Multi-Threat
TBD
UA/Viator
TBD
UA/Velius
TBD
Yoroi
Season 1: Heroes of Reach
Knee guards
Knee guards
Knee guard
Unlock
Grenadier
TBD
UA/Type FJ
TBD
UA/Type JOR
TBD
UA/Type MR
TBD

UA/Type SA
TBD
Visor colors
Visor colors
Visor color
Unlock
Dragoon
TBD
Helljumper
TBD
MIA
TBD
Stalwart
TBD
Vandal
TBD
Prosthesis
Prosthesis
Prosthesis
Unlock
Hand
TBD
Transhumeral
TBD
Transradial
TBD
Gallery
[
edit
]
Sources
[
edit
]