The Lost City
From Halopedia, the Halo wiki
"All I can say is, imagine a beard trimmer, and each blade of the comb is the size of manhattan, each with tiered 'hoods."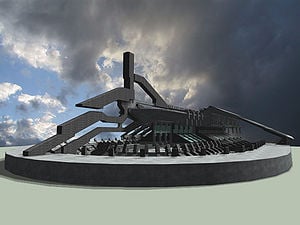 "The Lost City"[3], also known as "Forerunner Condo" to Bungie and "Cuesta Verde", was a visual look-development level created during the development of Halo 3.[4] It was cut during the development process, as the space had grown so immense that according to Paul Russel, "it could be a game in itself".[3] The final iteration's exterior appears to have influenced the design of the final game's Cartographer: the forward half of the city, especially its spire, is virtually identical to the map room's exterior structure. A building identical to the third iteration was also featured in the Halo Legends episode Origins.[2]
Development and design
[
edit
]
Built by Bungie environment artist Paul Russel, the level was to be based around a massive Forerunner city and served as a visual look-dev test for the game's campaign. Russell stated that they "had a lot of ideas for the discarded forerunner city" including showing what the Forerunner values were and using the architecture to show how they lived their daily life.[5] They stated that their goal was to create something more than "just cool shapes with mysterious purpose," creating something that told a story.[5] Russel stated that in total, there "were probably 10 different versions of the city."[6]
Once the architectural blockout was made, it was passed on to Vic Deleon, who populated the area with vegetation, entropy, and lighting.[6] They worked on the project for around three weeks alongside a cut level named "Tsavo Township" before being moved to making multiplayer maps for Halo 2 DLC.[7] By this time, the fiction surrounding the structure was that it was to be a housing complex for Forerunner scientists living on the ring, possibly the Librarian's team.[4] The idea of this iteration was to design the abandoned living space with a courtyard, one that had fallen into disrepair.[6] Another developer, Dan Miller, stated that the level was cut as the development team felt it would give too much away about the Forerunners and their mystery.[8]
Gallery
[
edit
]
Vic Deleon's art pass
[
edit
]
The near-final iterations by Vic DeLeon in 2005, running in the "Halo 2.5-3" engine.[6]
Sources
[
edit
]