Alien trooper
From Halopedia, the Halo wiki
| | |
| --- | --- |
| | This article contains information about a non-canonical subject that, while official, is not part of the established Halo universe. |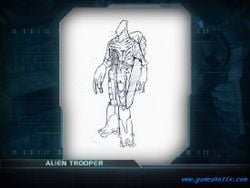 Alien troopers are a deleted Covenant species seen in the Halo 2 Collector's Edition DVD.[1] It is unknown exactly what this seems to be. The only data known is that it carries its weapon under its belly, and was a precursor to the Hunter in this aspect. It bears a small resemblance to Elites.
The Trooper looks as if it could have been conceived as another Mgalekgolo form.
Several versions of this alien can be found in the book The Art of Halo.
In the book above, it mentions that this creature was meant to be a sniper.
It had progressed into the texture stage of development before being scrapped, according to art director Marcus R. Lehto in the "cutting room floor" segment of the Halo 2 Collectors Edition Bonus disc.
The Alien Trooper has a resemblance to the Pfhor from Marathon.
The Alien Trooper resembles a mix between a Sangheili and a Jiralhanae.
Gallery
[
edit
]
List of appearances
[
edit
]
Sources
[
edit
]