Cut Halo Wars buildings
From Halopedia, the Halo wiki
This page discusses elements of deleted material and cut content. Some information on the page is sourced from game files and may not be verifiable through external sources. Where possible, such information should be clearly-marked and replaced with a proper external source as soon as one is available.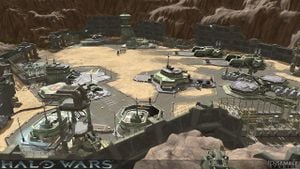 Throughout the development of Halo Wars, a large number of buildings were cut from the final release. Over the game's development, the building system went through over six iterations prior to settling on the Firebase system ultimately found in the E3 2008 Demo and final game.[2]
UNSC buildings
[
edit
]
Air pad
[
edit
]
While the Air Pad was ultimately included in the final game, it underwent several revisions to reach that stage. An early design of the air pad found in the E3 2007 build consists of a small hangar and runway for several aircraft including a B-65 Shortsword and three Falcons or Sparrowhawks.[1] Icons depicting this design remain in the files of the final release.
Barracks
[
edit
]
Another building that survived into the final game, the barracks underwent many design iterations. In the E3 2007 build, the barracks are little more than a fenced-off courtyard, and have Marines doing pushups behind the building.[1] Another iteration of the barracks was intended to be "orbitally deployed", with the building dropping down from orbit and unpacking itself.
A third design of the barracks has also been shown, much more simplified in form and more closely-resembling the direction of the buildings in the final game. Icons depicting this design remain in the files of the final release.
Command centre
[
edit
]
Landing pad
[
edit
]
Missile silo
[
edit
]
Found in the E3 2007 Demo, the missile silo was presumably intended for launching missiles as part of the leader power system. The building is never used in the demo, leaving its full functionality a mystery.[1]
Power extractor
[
edit
]
Spec ops building/ field armory
[
edit
]
Another building that was realised in the final release, the field armory went through similar revision as other buildings. A particularly early revision labels the field armory as the "spec ops building", though the building went through at least one other iteration before the final design was chosen; this second iteration's icon remains in the files for Halo Wars. Icons additionally remain in the files for yet another "specialops" building design alongside the aforementioned field armory.
Supply pad
[
edit
]
Turrets
[
edit
]
Vehicle depot
[
edit
]
Miscellaneous
[
edit
]
Covenant buildings
[
edit
]
Heavy factory
[
edit
]
Monument
[
edit
]
Identified only via filenames cov_bdlg_monument and cov_bdlg_upgradedmonument of icons in the released build of Halo Wars, the Covenant monument building was to have five tiers of upgrade, shown below. The monument's intended function is unknown, though the labelling of the base defense turrets as cov_nodemonumentupgrade suggests the monument was intended to serve as the base headquarters/ command centre in the original free-placement building system.
Flood buildings
[
edit
]
Flood spawner
[
edit
]
Sources
[
edit
]