Dialogue placeholders
From Halopedia, the Halo wiki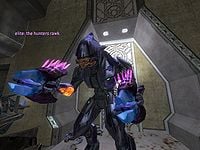 Within the Halo 2 disc, modders have found text placeholders for the scripted dialogs at certain parts of levels. Some of it has been humorously altered from the original script, and others depict lines that were eventually discarded.[1]
Before (After dispatching Covenant boarders en route to the In Amber Clad): "Thanks, Chief. I owe you one. Take me now!" [1]
After: "Thanks, Chief. I owe you one."
Before: "Alright, this is the shit."
After: "See this look? It's terror!"[2]
SpecOps Elite
Elites
Before: "The Hunters rawk!"[3]
After: "The Hunters have come to our aid, Arbiter. They will fight by our side."
Brutes
Before: "Tartar sauce must complete his tasty condiments."[3]
Ending Cinematics
Sources
[
edit
]