FOB Delta
From Halopedia, the Halo wiki
"FOB Delta cleanup complete. Now to claim it. Get me to the terminal."
— The Weapon to John-117 after the Spartan eliminated the Banished troops at the FOB.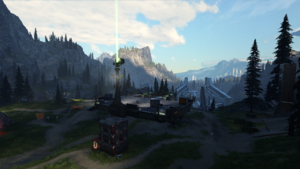 FOB Delta is a UNSC Forward Operating Base (FOB) on the fragment sections of Installation 07 during the Battle for Zeta Halo.[1]
Operational history
[
edit
]
Following the Banished's ambush on the UNSC Infinity upon its arrival at Installation 07 on December 12, 2559, UNSC forces made landfall on the ring.[2] While many survivors at the fragmented section of the ring gathered at the wreckage of the Mulsanne-class light frigate UNSC Mortal Reverie as a base of operations,[3] they also established Forward Operating Bases in nearby locations.[4] FOB Delta was located east of the Conservatory, and northeast of a Reformation Spire's base.[1]
By March 3, 2560, FOB Delta was in Banished control,[4] with the Banished adding their own equipment and troops around the FOB.[1] The FOB was also connected to the Banished battle network protocol,[5] tracking nearby UNSC and Banished activity.[6] At some point after Master Chief Petty Officer John-117 was retrieved by Fernando Esparza onboard Echo 216 on May 28,[7] the Spartan eliminated the Banished forces at the FOB and deployed his artificial intelligence known as the Weapon at the FOB's terminal.[1] The Weapon removed the FOB from the Banished network, returning it to UNSC control,[6] and marked the nearby locations of interest on John-117's TACMAP.[1]
Gameplay
[
edit
]
"Got it! All Banished controls are cleared — this FOB is ours. If you're looking for a good vantage point, you could do worse than the peak to the north. It's one of the highest on the Ring. Just be careful on your way up."
— The Weapon to John-117 after capturing the FOB.
FOB Delta becomes available in the "Connections" section of the Halo Infinite campaign.
List of appearances
[
edit
]
Sources
[
edit
]
List of campaign levels and multiplayer maps in the Halo series
For a complete list, check out our levels category.