Participants in the Battle for Earth
From Halopedia, the Halo wiki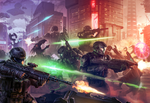 This article is part of a series on the
Battle for Earth
---
---
To check out information for other Human-Covenant War battles, see here!
There were numerous participants in the Battle for Earth. The UNSC consolidated the last of of their forces at Earth, allowing for large deployments of forces.
Main article: United Nations Space Command
Covenant
[
edit
]
Main article: Covenant
Naval assets
[
edit
]
Military Personnel
[
edit
]
Vehicles
[
edit
]
The Covenant used a lot of different types of ground vehicles during their siege. The Type-32 Rapid Assault Vehicle were deployed early on,[1] but were eventually overtaken by the Type-25 Rapid Assault Vehicle.[3] As land transportation, the Covenant used the Type-29 Troop/Vehicle Transport.[1] As their main battle tank, the Covenant used the Type-26 Assault Gun Carriage.[4] Their main anti-air vehicle was the Type-52 Anti-Aircraft Artillery.[7][12] Finally, to assist in breaking down any defenses, the Covenant used the feared Type-47 Ultra Heavy Assault Platform in both the Protos variant,[4] and the Deutoros variant.[7][13]
The Covenant's main ground attack aircraft was the Type-26 Ground Support Aircraft. Two variants of which were used during the battle; the T26A[1] and the T26C.[9] The Type-52 Troop Carrier was also used as a cargo transport for the Covenant.[4]
Non-combatants
[
edit
]
Covenant separatists
[
edit
]
Main article: Covenant separatists
Naval assets
[
edit
]
Military personnel
[
edit
]
Sources
[
edit
]
^ Halo 3, Halo: Landfall
^ a b c Halo 3, campaign level, Tsavo Highway
^ Halo: Spartan Strike, campaign Level, Mission 3: Conduit
^ Halo: Reach, multiplayer map, Breakneck
^ Halo: Spartan Strike, campaign level, Mission 1: New Mombasa Nightmare
^ a b Halo 3, campaign level, Sierra 117
^ Halo 3: ODST, campaign level, Uplift Reserve
^ Halo 3: ODST, campaign level, Kikowani Station
^ Halo 3: ODST, campaign level, Coastal Highway