Raid of Kostroda
From Halopedia, the Halo wiki
This article is a stub. You can help Halopedia by expanding it.
Previous:

Next:

Raid of Kostroda

Conflict:

Date:

Location:

 
The Raid of Kostroda[1] was a Banished attack on the forces of the Fleet of Recalcitrant Ire on the moon of Kostroda.[4]
Background
[
edit
]
When the Covenant ended, Kostroda became a den of violence as they fought over what remained on the world.[2]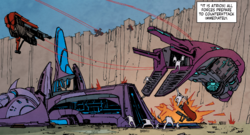 Atriox led a group of Banished to attack a Recalcitrant Ire outpost[3][4] on the surface of Kostroda.[1] Being alerted and not wanting to wait for reinforcements, Shipmaster Let 'Volir personally led a counter-attack to try and repel the Banished and capture Atriox. After 'Volir's forces surrounded and forced Atriox to surrender, they took the Brute up to the carrier Enduring Conviction.[4]
In orbit, Atriox was able to convince Let 'Volir and the crew of his ship to join the Banished and Atriox.[4][3][1][5] Soon after, the rest of the Fleet of Recalcitrant Ire arrived, forcing Enduring Conviction to flee.[4]
Aftermath
[
edit
]
Now in service to the Banished, Enduring Conviction, her crew, and the surviving members of the Banished raiding party fled to Ansket IV.[4]
Gallery
[
edit
]
List of appearances
[
edit
]
Sources
[
edit
]