Kostroda
From Halopedia, the Halo wiki
Kostroda
Astrographical

System:

Orbiting:

Societal

Species:

Sangheili (Non-native)

Government:

 
Kostroda, known as Enduring Service in English, is a Covenant swamp-moon of the Mis'Fah system.[1]
Overview
[
edit
]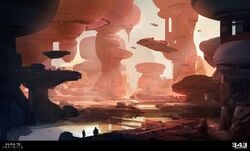 Topography
[
edit
]
Kostroda is primarily swampy, though it does feature some more desert-like areas.[1]
History
[
edit
]
Lacking civilian and municipal value, the moon entered into Covenant military service. Assembly Forges were placed on the moon and shipyards were built in orbit.[1]
Post-war
[
edit
]
The collapse of the Covenant resulted in the moon becoming home to violence and treachery as different groups vied for control over what was left.[1]
In 2553, Atriox and his Banished raided a complex under the control of the Sangheili-led Fleet of Recalcitrant Ire. It was in orbit of the moon at the time. The Banished were captured and taken to the Enduring Conviction. This resulted in the ship and crew defecting to Atriox's cause.[2][3][4][5]
Gallery
[
edit
]
List of appearances
[
edit
]
Sources
[
edit
]