Invincible
From Halopedia, the Halo wiki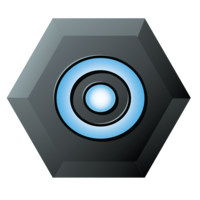 Invincible, or Boogeyman in Halo Infinite, is awarded in Halo 3, Halo: Reach, Halo 4, Halo: The Master Chief Collection, Halo 5: Guardians, and Halo Infinite for killing 30 opponents in a row without dying in multiplayer and Spartan Ops. In the Halo 3: ODST, Halo: Reach and The Master Chief Collection campaigns and Firefight it is awarded for killing 100 enemies in a row. In Halo 3 it is represented by a light blue target inside a black hexagon, and is the highest spree medal. This likeness later became the Unfrigginbelievable Medal in Halo: Reach. In Reach, Invincible is represented by a light blue target on a blue 20-point star. In Halo 4, The Master Chief Collection and Halo 5: Guardians it is represented by a white target on a blue ten-pointed star.
In Halo: Spartan Assault for Xbox 360 and Xbox One, the Invincible medal is awarded for killing 30 enemies in a row in co-op without being hit, and is represented by a blue shield with a Pod infector over a single inverted chevron.
This medal is usually achieved by playing Big Team Battle and killing people instead of actually trying to get the flag, bomb, etc.
Gallery
[
edit
]