Kill from the Grave
From Halopedia, the Halo wiki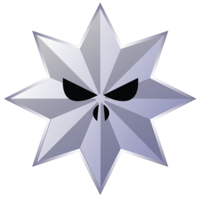 Kill from the Grave (Death from the Grave in Halo 3 and Halo 3: ODST, and From the Grave in Halo 5: Guardians and Halo Infinite) in is a medal awarded in multiplayer, campaign, Firefight and Spartan Ops to a player who kills an opponent after they themselves have died. As this medal is awarded, a message appears on the screen, saying "You killed (player) from the grave". Unlike earlier games, in Halo 5: Guardians the medal is also announced by the multiplayer announcer.
In Halo 3 through Halo: Reach, the medal is represented by a platinum eight-pointed star with a face without a mouth in the center of a silver six-pointed star. In Halo 4 and The Master Chief Collection the star is also placed atop a blue circle and grey cross. In Halo Infinite, the star is replaced by a gravestone shadowed by two other gravestones on a green (Common-rarity) skill border.
The medal most often occurs from a grenade (more commonly Plasma Grenades) or Needler rounds detonating after the player's death, or a slow moving projectile such as a rocket making contact with a foe after the player who shot the rocket is killed. In Halo: Reach it is also possible to earn numerous Kill from the Grave medals with the Target Locator in campaign and Firefight. It appears to occur frequently in Halo 4 in case of near-simultaneous kills (e.g. melee duels or Shotgun/Scattershot duels). In Halo 5: Guardians the medal will be earned in Warzone if a player injures another player, dies, and then that other player is finished off by an AI marine, Covenant or Forerunner.
Prior to the shutdown of Xbox 360 Halo online services on January 13, 2022, if a player scored two "Death from the Grave" medals in a single online match on the Halo 3 map Orbital, would unlock the Post Mortem achievement.
Prior to the shutdown, earning a Double Kill from the Grave in a Halo: Reach matchmaking game would unlock the Totally Worth It achievement.
Gallery
[
edit
]