Terminal (Halo: Combat Evolved Anniversary)
From Halopedia, the Halo wiki
"Are you ready, Reclaimer? This is how my story begins."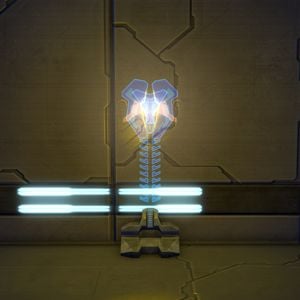 Halo: Combat Evolved Anniversary features a Terminal accessible to the player in each level. Unlike the text-based terminals of Halo 3, the Anniversary terminals feature animation, music, sound effects and narration by 343 Guilty Spark and a handful of other characters.[2] The terminals also have connections to the story of Halo 4 and The Forerunner Saga.[3][4][5] After the player accessed the terminal in the campaign levels, the terminal can be watched in the game's main menu, in the "Extras", similar to the cutscenes in Halo Wars.
The graphics and audio for the Terminals were produced by The Sequence Group,[1] while most of the writing was done by 343 Industries Managing Editor Kevin Grace.[6]
Just like skulls, terminals cannot be seen or accessed in Classic mode.[7] They can be seen and accessed on any difficulty and in Co-op mode. Once unlocked, the terminals can be viewed via Halo Waypoint. Starting from Series 7, Halo: The Master Chief Collection allowed unlocked terminals to be viewed from the Extras menu.
The Terminals
[
edit
]
Terminal 7's description is a reference to the Latin saying quis custodiet ipsos custodes? ("Who watches the watchmen?").
Captain Keyes' mental struggle as he is slowly assimilated by the Proto-Gravemind is an adaptation of a passage from Halo: The Flood. Several additions are present to integrate the scene with more recent canon - specifically, memories of his daughter, Miranda, and her mother, Dr. Catherine Halsey.
The Installation monitors' gathering aboard a Lifeworker vessel over Installation 00 is adapted in the novel Halo: Silentium, which further expands on 343 Guilty Spark's assignment to his installation.
A five-character code in Forerunner script appears briefly at each terminal's end, excluding Terminal 11. The characters correspond directly with the Latin alphabet. In order from the first terminal, they are as such: "343GS", "HALO4", "SPARK", "FLOOD", "EARTH", "DEMON", "RINGS", "ARRAY", "HUMAN", and "HAVEN".
The input screen is based on the holographic control spheres seen inside the relic on Harvest and at the Apex Site on Trove from Halo Wars, as well as from Halo Legends: Origins.
In the 11th terminal, Kig-Yar are seen with the Heretics, despite not appearing with them in Halo 2.
The Covenant ship briefly seen in the 11th terminal is likely Ascendant Justice, the ship captured by Master Chief immediately after the destruction of Installation 04.
Appearances
[
edit
]
Gallery
[
edit
]
Sources
[
edit
]