MK50 Sidekick
From Halopedia, the Halo wiki
MK50 Sidekick

Production overview

Manufacturer:

Type:

Specifications

Length:

12.9 inches (33 cm)[2]

Ammunition type:

Feed system:

12-round detachable box magazine[1]

Semi-automatic[1]

Service history

In service:

 
The Mark 50 Sidekick[3], or simply MK50 Sidekick is a type of human pistol manufactured by Emerson Tactical Systems in service with the UNSC. It is a rapid fire sidearm that performs optimally at close to medium range, although accuracy loss is considerable when fired in restless succession.[1]
Overview
[
edit
]
Manufactured by Emerson Tactical Systems, the MK50 Sidekick is a semi-automatic handgun in service with the UNSC Armed Forces. Described as "powerful and compact", it fires 10mm rounds from a detachable box magazine that typically holds 12 rounds. It differs significantly from the M6 series, the UNSC's most prominent sidearm, lacking the M6's signature hand-guard and smart-linked optic, the KFA-2 x2, while also firing a lower caliber round. The design of the MK50 is relatively simplistic, with a segmented slide and basic, analogue ironsights. A safety switch is present on the left side of the weapon, above the trigger-guard. Emerson Tactical Systems' emblem is worked into the grip.[1] The weapon usually sports an olive green and matte black finish.[4][5]
History
[
edit
]
The MK50 Sidekick entered production at some point before 2559. By December 2559, the weapon was in service with UNSC forces aboard the UNSC Infinity, and saw action at the Battle for Zeta Halo.[6]
Gameplay
[
edit
]
The MK50 can hold 12 rounds with at least 72 rounds in reserve. It takes 6 shots to drain shields and 1 head shot to kill or 4 body shots. It is headshot-capable and features a very rapid reload animation making it a perfect sidearm to the MA40 AR and good for noob combos as well.[1]
Variants
[
edit
]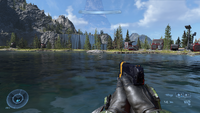 Striker Sidekick: A yellow-painted variant of the MK50 Sidekick that holds 14 rounds, deals greater damage, and is more accurate, at the cost of stronger recoil.
Production notes
[
edit
]
The Sidekick was designed as a true sidearm pistol, being lightning fast to draw and fire, acting as a reliable backup when the player's primary weapon is depleted. Compared to the Magnums of previous titles, the Sidekick was described being closest in function to Halo 2's M6C magnum.[7] In April 2021, it was shown that the Sidekick had received a redesign since its reveal in July 2020. It would now include an underbarrel attachment similar to those featured on the M6C/SOCOM and the Tactical variant of the M6H2 Magnum, as well as some other small changes.[8]
Gallery
[
edit
]
Screenshots
[
edit
]
Halo Infinite coatings
[
edit
]
List of appearances
[
edit
]
Sources
[
edit
]
^ a b c d e f g Halo Infinite, trailer, Campaign Gameplay Premiere
^ a b Halo Encyclopedia (2022 edition), page 166
^ Halo Infinite, multiplayer: When the player gets a kill with the MK50 Sidekick. "Mark 50 kill confirmed" - LUMU
^ Xbox Wire, Bank Now, Play Later: Halo Infinite Meets Monster Energy Global Partnership (Retrieved on Aug 6, 2021) [archive]
^ Halo Waypoint, Infinite Inquiries: "The "Sidekick" is a true sidearm pistol that is lightning fast to draw and fire – truly exceling as a reliable backup when your primary weapon is depleted and a Brute is bearing down on you. Compared to previous titles, this weapon is closest to Halo 2's version of the Magnum." - John Junyszek (Unyshek) (Retrieved on Jul 30, 2020) [archive]