2526
From Halopedia, the Halo wiki
2526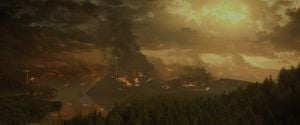 Circinius IV is glassed by the Covenant.
---
26th century
Previous: 2524 • 2525
Next: 2527 • 2528
---
For a complete list, see our Timeline directory.
2526 was a year in the 2520s in the 26th century.
February
[
edit
]
May 3: Dr. Catherine Halsey devises a new matrix strata with random-access couplers that could theoretically expand an AI's lifespan. Those protocols are authorized by Vice Admiral Michael Stanforth some time later.[12]
May 30: The Battle of Mesra takes place as the Covenant invade the Outer colony of Mesra in the Qusdar system with the intent of capturing its vast mining infrastructure; Admiral Preston Cole launches a counteroffensive in a bid to wipe out the invaders, led by Spartan Blue Team.[13]
By June, FLEETCOM is unable to consolidate battlefield intelligence before it became inactionable, and stops trying to coordinate core strategy, granting operational autonomy to each battle group.[13]
October
[
edit
]
Unknown date
[
edit
]
The Type-32 Rapid Assault Vehicle is first observed by the UNSC.[14]
The Committee of Minds for Security analyze the Covenant's glassing capabilities based on recorded data from prior engagements.[15] They also discuss changing the primary focus of the UNSC Special Forces, with the protection of infrastructure, previously the main focus of the Spartan-IIs, being shifted to the ODST.[16] Later in the year the Committee discuss the possibility of a hypothetical Covenant counterpart to the Assembly and the possibility of contacting it.[17]
Gallery
[
edit
]
Sources
[
edit
]
^ Dr. Halsey's personal journal, additional materials
^ Dr. Halsey's personal journal, February 24, 2526
^ Halo: Silent Storm, Chapter 1
^ a b Halo: Silent Storm, Chapter 3
^ Halo: Silent Storm, Chapter 9
^ a b Halo: Silent Storm, Chapter 4
^ Halo: Silent Storm, Chapter 5
^ a b Halo 4: Forward Unto Dawn, Part 1
^ Halo 4: Forward Unto Dawn
^ a b Halo: Oblivion - Chapter 1
^ Halo: Reach, Data pad 11
^ Halo: Reach, Data pad 12