Data pads
From Halopedia, the Halo wiki
This article is about the hidden objects found in Halo: Reach. For the in-universe piece of technology, see
Data pad
.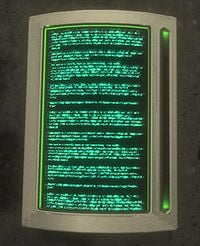 The Data pads are hidden computer pads encountered throughout the Halo: Reach campaign. Similar to the Terminals found in Halo 3 and the Audio logs found in Halo 3: ODST, the pads contain their own, self-contained story, presented as exchanges between members of a mysterious AI collective known as the Assembly and messages by a human individual who has discovered the clandestine activities of the group.
A total of nineteen data pads can be found in various locations throughout the game's campaign, with at least two data pads in every level, excluding The Mission Lone Wolf. Each data pad is numbered; letters or words are replaced with numbers in each data pad message representing the number of the data pad. Data pads numbered 1-9 can be found on any difficulty settings whereas data pads 10-19 can only be found on the Legendary difficulty settings. The in-game model for the data pads feature text in their inactive modes that do not represent the actual content.
Transcripts
[
edit
]
| | |
| --- | --- |
| | The following is a verbatim transcription of an official document for archival reasons. As the original content is transcribed word-for-word, any possible discrepancies and/or errors are included. |
All difficulties
[
edit
]
Legendary difficulty
[
edit
]
Finding the data pads in Halo: The Master Chief Collection will unlock 21 achievements: one for each of the 19 pads, Canonical Conundrum for finding all of them, and Clear and Present Danger for killing the SpecOps Elite that carries Pad 10.
Similar to the Halo 3 Terminals, data pads have reversed Forerunner audio in the background.[1]
Accessing a data pad while using an assault rifle may cause the rifle to fire continuously until the player runs out of ammunition.
If one uses the Recon control layout and quickly scrolls back through the data pad pages, they may find that they will begin to activate their armor ability or even throw a grenade.
Data pad 14 makes no mention of Hat Yai or Circinius IV in the list of glassed planets, despite both worlds having been destroyed prior to January 1, 2530. Circinius IV's omission is understandable as it was created for the 2012 film Halo 4: Forward Unto Dawn. Hat Yai, however, was first introduced in the Halo: Evolutions short story Dirt, released ten months before Halo: Reach.
Sources
[
edit
]
See also
[
edit
]
External links
[
edit
]