Traxus Heavy Industries
From Halopedia, the Halo wiki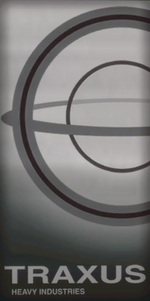 Traxus Heavy Industries is an interplanetary human industrial company. It had facilities on the planets of Earth,[1] Reach,[2] and Andesia.[3]
Overview
[
edit
]
Products and services
[
edit
]
Traxus engages in a number of heavy industry enterprises. They have a stake in Wind Power Station 7 on the Zanzibar Island.[1] The company also utilized HuCiv HC1500 trucks for ground transport.[4] Traxus also manufactured fire extinguishers, some of which were used in the West Market in Mombasa[5] and some Pelicans like Echo 216.[6]
Vehicles
[
edit
]
Forklift

S-1 Traxus Cargo Transporter
S-3 Traxus Cargo Transporter
Facilities
[
edit
]
Traxus Heavy Industries maintained a large network of warehouses on Earth to ease the storage of supplies and goods.[7] Traxus Heavy Industries also had a few office buildings in the city of New Mombasa.[8]
The company had facilities in the following cities and locations:
History
[
edit
]
Human-Covenant war
[
edit
]
Main article: Human-Covenant war
The Traxus Tower was also the main evacuation point for the city during the Siege of New Alexandria during the Fall of Reach. With the help of SPARTAN-B312, the tower's executive pad was cleared and held by the Bullfrogs to enable the evacuation.[2] By October 2552, Traxus was advertising in New Mombasa.[8]
Post-war
[
edit
]
In 2556, Traxus was placed under "Active Investigation" by ONI alongside many other companies after the Sedra terrorist attack.[11]
Sometime in either 2557 or 2558, Traxus had ads placed in the city of Pilvros, New Carthage.[12]
Production notes
[
edit
]
The company's name is a reference to Traxus IV, an AI that went rampant in the Marathon series. The name "Traxus" is an anagram for "Art Sux" - or "Suxart" spelled backwards.[13]
Gallery
[
edit
]
List of appearances
[
edit
]
Sources
[
edit
]