SRS99D-S2 AM sniper rifle
From Halopedia, the Halo wiki
SRS99D-S2 AM sniper rifle
Production overview

Manufacturer:

Model series:

Type:

Sniper rifle, anti-materiel[2]

Specifications

Weight:

44lb (19.96kg)[3]

Ammunition type:

Feed system:

4-round detachable box magazine[2]

Effective range:

4,920ft (1,500 metres)[3]

Service history

In service:

 
The Sniper Rifle System 99D-S2 Anti-Matériel, abbreviated SRS99D-S2 AM,[5] SRS99D AM[2], or simply 99-D,[6] is a long-range sniping tool used by the United Nations Space Command.[3] It is produced by Misriah Armory as part of its SRS99 Series.[1]
Overview
[
edit
]
Main article: SRS99 Series
The SRS99D-S2 AM is a powerful, semi-automatic sniper rifle chambered in the 14.5×114mm cartridge, generally firing APFSDS (armor-piercing fin-stabilized discarding-sabot) ammunition.[3] The optic mounted on the weapon is capable of x5 and x10 magnification.[7]
In profile, the SRS99D-S2 AM bears clear resemblance to the SRS99C-S2 AM, sharing its smooth and simplistic design. The weapon's finish is matte grey. The charging handle is located on the left side of the weapon, a metallic-coloured rounded protrusion, and expended casings are ejected on the right. The stock is solid, and not connected with the pistol group as in some SRC99C-S2 AM rifles. A metal guard projects out from the underside of the weapon, over where it is gripped for firing. As in the SRS99C-S2, a square carrying-handle is located in front of and over the scope.[7]
Performance
[
edit
]
The SRS99D-S2 AM is effective out to 4,920 ft (1,500 metres), and has the capacity to eliminate targets in a single shot.[3] According to Major Roland Huffman, a retired UNSC marine with experience as a sniper, a shot fired from this weapon could penetrate "about 13 feet of flesh and bone" when fired from a distance of 600 yards.[8] Recoil is not considered a significant issue when employing this weapon, and its high rate of fire and ergonomic reloading process mitigate the limited capacity of the 4-round detachable box magazines utilized with it.[3]
Development History
[
edit
]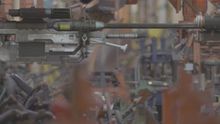 The SRS99D-S2 AM was developed by Misriah Armory, with a line of them being manufactured on Mars.[1]
These rifles were notably employed by the UNSC in the latter stages of the Battle of Earth, including by Orbital Drop Shock Trooper Corporal T. Rymann during the Battle of Sector Six.[9][7] These weapons played a role in the Battle of Installation 00 as well, with John-117 deploying with one during landfall in the Battle of Installation 00.[10] In January, 2553 on New Llanelli, during one of Kilo-Five's weapon transactions with Avu Med 'Telcam, Orbital Drop Shock Trooper Staff Sergeant Malcolm Geffen was positioned on a ridge to cover the transaction, armed with an SRS99D-S2 AM.[6]
At least two of these rifles were kept in the "Weapon room" of the Museum of Humanity.[8]
Gameplay
[
edit
]
Main article: Sniper Rifle
The Sniper Rifle is a precision power weapon, which fires highly damaging projectiles at near instantaneous speeds. It features two levels of zoom, and a magazine of 4 rounds. This makes it a powerhouse at long ranges, capable of killing most enemies, including enemy players in multiplayer, with one headshot, and outranging other weapons like the Battle Rifle significantly. To compensate for its power, it is a relatively rare weapon, and ammo for it is difficult to find.
| | |
| --- | --- |
| | See our gameplay information related to SRS99D-S2 AM sniper rifle on its gameplay page |
| | Browse more images in this article's gallery page. |
When meleeing with the weapon, the image on the scope will briefly reflect the player's field of view before switching to the scope's view.
When throwing a piece of equipment, the player character's model will appear to sink into the rifle and disappear until the throwing animation is finished.
The SRS99D's in-game model lacks the cyan "trinity" emblem seen on the sniper rifles in Halo: Combat Evolved and Halo 2. However, it is shown with this symbol in Halo: Landfall.
Gallery
[
edit
]
List of appearances
[
edit
]
Sources
[
edit
]
See also
[
edit
]