Forerunner starship
From Halopedia, the Halo wiki
This article is a stub. You can help Halopedia by expanding it.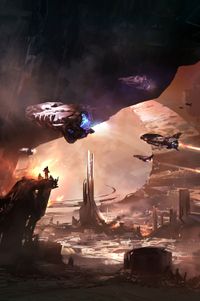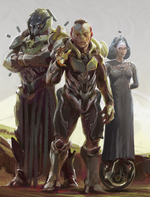 This article is part of a series on the
Forerunners
---
Technology
---
History
---
Culture, Politics & Economy
---
Biology
---
To check out information for other sapient species, see here!
Forerunner starships are ships used by the Forerunner species as a whole, including their Ecumene.[1]
Overview
[
edit
]
Organization
[
edit
]
Ship designs were dynamic for the Forerunners. As such, classifications weren't based on incorporated systems or role, but rather on its formative nature within the era it was constructed.[2] The Forerunners grouped warships into orders of battle based on defensive and offensive capabilities. This manifested as numbered orders for ships.[2]
The Builders, Miners, and Lifeworkers all operated ships.[1] Builder Security[3] and the Warrior-Servants also operated numerous warships.[4]
Design and specifications
[
edit
]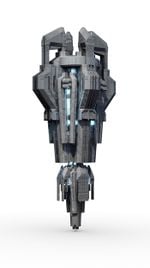 A special type of design seed is used to construct Forerunner ships, known as ship-seeds.[5]
Engines
[
edit
]
Complement
[
edit
]
History
[
edit
]
Human-Forerunner wars
[
edit
]
During the Human-Forerunner wars, Forerunner starships and Human starships fought one another. An example of this was during the Battle of Charum Hakkor.
High Ecumene
[
edit
]
In the millennia preceding the outbreak of the Flood War, during the High Ecumene period, the Skirr-class battlecruisers and the Second-order fast frigates were put into service. Only decades before the war, Raptors were also put into service.[3]
Forerunner-Flood war
[
edit
]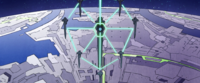 Forerunner ships participated in the Forerunner-Flood war. Some of which became infected by the Flood.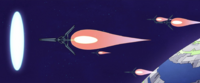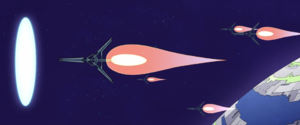 After the Great Purification of 97,445 BCE, Keyships played a role in the Reintroduction of species to their homeworld.[6] One Keyship, the Anodyne Spirit, was hijacked by Mendicant Bias and would end up crash landing on the San'Shyuum homeworld of Janjur Qom.[7] This ship would be later seen as a religious artifact[8] to the species and would later become part of the Covenant's holy city of High Charity[9] along with a Fortress-class vessel from Tuluk'katho.[10]
Numerous other Forerunner ships ended up being buried, like one under the Babd Catha Ice Shelf on Reach[11] or one buried on Installation 05.[12]
Warships
[
edit
]
Ships of type
[
edit
]
Other and unknown
[
edit
]
Ships of the type
[
edit
]
Production notes
[
edit
]
A pitched map for Halo 4, Genessis, was to feature a Keyship in its scenery.[13]
Gallery
[
edit
]
Sources
[
edit
]
^ a b Halo Encyclopedia (2022 edition), page 378-379
^ Halo Encyclopedia (2022 edition), page 381
^ Halo: Cryptum, page 128
^ Halo Waypoint, Universe - Mendicant Bias (Retrieved on Jun 1, 2020) [archive]
^ Halo Waypoint, Universe - Dreadnought (Retrieved on Jun 1, 2020) [archive]
^ Halo Encyclopedia (2022 edition), page 226
^ Halo: Reach, campaign level The Package
^ Artstation, Halo 4 (Retrieved on Jun 1, 2020) [archive]