Colony ship
From Halopedia, the Halo wiki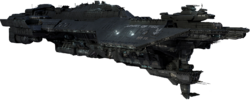 A colony ship is a vessel designed to transport colonists and equipment required for planetary colonization, including terraforming equipment to alter a planet's original atmosphere and/or biosphere to become compatible with human habitation. Colony ships also carry prefabricated colony starter units to serve as early settlements until more permanent habitats can be built.[1] After the colonization process is fully underway, the vessel itself may also be dismantled and repurposed to serve as the groundwork for a colony, with the power reactor used to power the settlement, and the ship's AI construct repurposed to function as the colony's Planetary Security Intelligence, as was the case with the UNSC Skidbladnir when Harvest was colonized.[2]
Some colony ships, namely the UNSC Spirit of Fire, have also been converted for military use, with their colony starter units repurposed to serve as military bases.
History
[
edit
]
The first human colony ships transported colonists to other worlds in the Sol system, including Luna, Mars and the Jovian Moons. The construction of the first line of interstellar colony ships began in 2310, soon after the discovery of slipspace travel. In 2362, the Odyssey led the first wave of extrasolar human colonization, to colonize worlds in nearby systems; these would later be known as the Inner Colonies. A military presence was often attached to colony ships and the worlds they colonized, to serve as security and to complement the UNSC's fleets and other military forces.[3]
The "golden age" of human expansion continued for over a hundred years, with colony ships used to settle hundreds of worlds beyond the Inner Colonies. These worlds would be known as the Outer Colonies.[4]
During the Human-Covenant War, Phoenix-class colony ships, such as the UNSC Spirit of Fire, were refitted to act as support ships for the war effort.[5]
After the Human-Covenant War, humanity had begun to resettle its former colony worlds glassed by the Covenant, including Reach, using terraforming equipment carried by colony ships to return them to a habitable state.[6]
Known types
[
edit
]
Gallery
[
edit
]
List of appearances
[
edit
]
Sources
[
edit
]