Vertical Umbrage
From Halopedia, the Halo wiki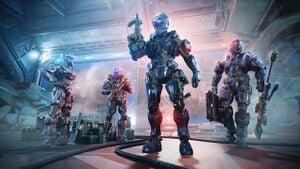 Vertical Umbrage (sometimes styled Vertical Umbrage: A Halo Waypoint Chronicle)[2] is a short story written by 343 Industries and released on November 7, 2022, to celebrate the ten-year anniversary of the release of Halo 4. The story is set in early 2558 during the Requiem Campaign, concurrently with the Spartan Ops mission Everything Has Gone Wrong. The story follows the SPARTAN-IV soldiers of Fireteam Shadow as they board the Zanar-pattern light cruiser Panom's Canticle - a series of events overheard in the Spartan Ops level but not visualised.[3]
Halopedia maintains an unaltered text archive of the Vertical Umbrage short story, should the original page go offline. The text transcript can be found here. The story was also later released as a free-to-download PDF (available here), and as an audiobook on YouTube narrated by Alex Wakeford (available here).[1]
Summary
[
edit
]
This section needs expansion. You can help Halopedia by expanding it.
Appearances
[
edit
]
External links
[
edit
]
Sources
[
edit
]