Alex Wakeford
From Halopedia, the Halo wiki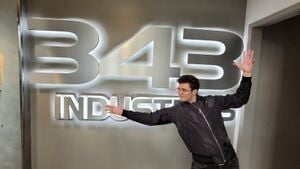 Alex Wakeford, aka Haruspis, is a community writer at 343 Industries and is the current steward of the Canon Fodder blog post series released monthly via Halo Waypoint.[1][2]
Biography
[
edit
]
A long-time community member, Alex Wakeford has been a devoted fan of the Halo universe since its inception.[2] He become known for his in-depth literary analyses of Halo 4 and the wider lore of the universe. The Halo series' stories, characters, themes, and community are the 'pillars of awesome' that drive his love for this franchise.[2] After holding several teaching and gaming industry roles, Alex was hired to be a writer on 343 Industries' community team in November 2021.[2][3] In this position, Alex took on the responsibility of writing many of the official blog posts shared with the community via Halo Waypoint.[4]
Following the release of Canon Fodder Issue #122 on December 13, 2021, senior franchise and narrative writer Jeff Easterling passed the torch to Alex Wakeford,[5] who continues to publish new entries of the blog series each month. In addition to Canon Fodder, Alex is the lead writer for the monthly Community Update blog posts, the Community Spotlight series, the narrative of The Last Sky Marshal Story Shard, several blog posts regarding updates and events for Halo Infinite, and more.[4] He has also been involved with the production of Halo novels, including the upcoming Halo: Epitaph by Kelly Gay.[6] He was also involved in the creation of the Halo Waypoint Chronicles short story series, and narrates the audio releases for the stories including Vertical Umbrage, Winter Contention, and the live reading for Sunrise on Sanghelios.[7][8][9]
Alex Wakeford's nickname of "Haruspis" is a reference to the title of the same name that was bestowed upon Forerunners entrusted with studying and watching over the Domain.
Gallery
[
edit
]
Sources
[
edit
]
^ Halo Waypoint, Canon Fodder - Foundations (Retrieved on Oct 22, 2022) [archive]
^ LinkedIn, Alex Wakeford (Retrieved on Oct 22, 2022) [archive]
^ a b Halo Waypoint, News (Retrieved on Oct 22, 2022) [archive]
^ Halo Waypoint, Canon Fodder - Legendary Endings (Retrieved on Oct 22, 2022) [archive]
^ Twitter, Alex Wakeford - ...still can't believe I get to be part of it... (Retrieved on Oct 22, 2022) [archive]
^ Halo Waypoint, Canon Fodder - Auditory Additions (Retrieved on Dec 15, 2022) [archive]