Halo Championship Series
From Halopedia, the Halo wiki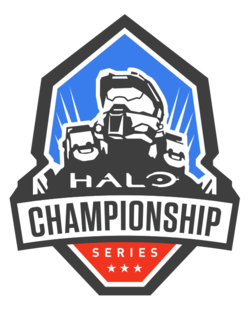 The Halo Championship Series (HCS) is the official Halo eSports league created and maintained by 343 Industries.[1]The league establishes a standard for tournament rules and gametype settings for use in official tournaments. 343 Industries originally collaborated with Electronic Sports League (ESL) to host tournaments. However, 343 eventually shifted over to Major League Gaming (MLG) to host tournaments. Other parties would also be collaborated with, such as Dreamhack, and Ultimate Gaming Championship (UGC).
The official game of the HCS was Halo 2: Anniversary during the 2014 to 2015 season.[2] Halo 5: Guardians replaced it for the 2016 to 2018 seasons, and Halo 3 made a return to the circuit for the 2019 season.
Tournament rules
[
edit
]
Player conduct
[
edit
]
Player conduct was expected to be orderly and business-like, with profanity, drugs, and controversial topics being bannable offenses. Gambling on the game's results was disallowed.
The HCS operates on a points system. During Halo 5: Guardians' run, points, also dubbed HCS Points could be earned via tournament wins. Online tournaments existed for accessibility's sake, and LAN tournaments were held in physical locations. Online tournaments were frequent, allowing for winning teams to freely compete and earn points, but LAN tournaments held the majority of the points each season, and were also tiered, ranging from Gold, to Platinum, to Diamond.[3]
Online tournaments had a prize pool of $1,000 each week on top of their HCS points sums of 550, awarded to the winning team. Online cups were dictated by a single elimination, best-of-3 format. Gold, Platinum, and Diamond tournaments offered a $5,000, $10,000, and $20,000 prize pool respectively, and also offered 1,500, 3,000, and 4,000 HCS Points for the winning teams, respectively.
Seeding
[
edit
]
Varying based on the tournament, seeding could be determined by the sum of the points received in qualifier tournaments, or by a team's placing in said tournaments. Additionally, random seeds can be given, mostly seen with open brackets. Seeds determine which team faces which in game, team color per match, and if applicable, the points determining your seed are obtained prior to major tournaments. Seeds can be split up into brackets, dubbed pro and open. The top team in the open bracket tends to move on to play in the pro bracket, although their seed remains the same, and will not increase for wins they get in that specific tournament.
Seeding can also be determined by pool play. In the case of the North American regionals for the Halo World Championship of 2016, four teams of four were pooled together, and they all played each other. After the games were completed, an overall consolidation of the games played was taken into account, and the top team moved forward. Games were played in a best-of-5 series.[4]
If 8 teams are seeded in a pro bracket, when the games begin, team 1 plays team 8, team 2 plays team 7, team 3 plays team 6, and team 4 plays 5. The top four seeded teams (1-4) all get priority on being red team in the games they play. After the initial games, the winners of these games play each other, and the higher seeded team remains red, while the other team goes blue. If team 1 beats 8, and team 2 beats 7, when team 1 and team 2 meet, team 2 will change to blue team.
Tournament settings
[
edit
]
Halo 2: Anniversary

[

edit

]
The following maps and gametypes were approved for use in HCS tournaments for Halo 2: Anniversary's first and second season.[5] Unlike Halo 5, Halo 2: Anniversary wouldn't be subject to widespread changes in the year it was on the circuit, featuring a near identical set of global settings, gametypes, and map rotations for the duration of its run.
Handbooks for the Halo 2: Anniversary circuit are listed below.
Gametype
Global settings
Map rotation
Tournament-wide settings

Primary weapon: Battle Rifle
Secondary weapon: None
Motion sensor: Off
Death cam: Off
Map loadouts: Off
Weapons on map: Default

N/A
Team Slayer

Time limit: 15 minutes
Score to win: 50

Shrine
Lockdown
Warlord
Capture the Flag

Capture the Flag (3 flag)

[

edit

]

Score to win: 3
Time limit: 30 minutes
Flag at home to score: No
Flag return: Disabled
Flag reset time: 15 seconds

Capture the Flag (5 flag)

[

edit

]

Score to win: 5
Time limit: 30 minutes
Flag at home to score: Yes
Flag return: Instant
Flag reset time: 15 seconds

Shrine (3 Flag)
Warlord (5 Flag)
King of the Hill

Score to win: 250 seconds
Time limit: 12 minutes
Hill movement: Progressive
Hill duration: 1 minute

Lockdown
Warlord
Neutral Bomb Assault

Neutral Bomb Assault (3 bomb)

[

edit

]

Score to win: 3
Time limit: 30 minutes
Bomb arm time: 5 seconds
Bomb fuse time: 3 seconds
Bomb reset: 30

Neutral Bomb Assault (5 bomb)

[

edit

]

Score to win: 5
Time limit: 30 minutes
Bomb arm time: 5 seconds
Bomb fuse time: 3 seconds
Bomb reset: 30

Shrine (3 Bomb)
Warlord (5 Bomb)
Halo 5: Guardians

[

edit

]
Following Halo 2: Anniversary, Halo 5: Guardians would get an increased eSports presence, which culminated in the first $1,000,000 tournament for the game, dubbed the Halo World Championship. Unlike most prior Halo titles which featured refined or altered gameplay settings for the competitive aspect of the game, Halo 5's first competitive tournament ran 343i's proclaimed "universal settings", which were on par with those seen in the game's matchmaking in 2015. The four core gametypes seen would be Team Slayer, Capture the Flag, Strongholds, and the newly created Breakout, however, following backlash from the competitive community, Breakout was removed, although not replaced. Breakout would not return in the 2017 and 2018 seasons.
The 2017 season of the Halo World Championship would follow in the footsteps of Halo 2: Anniversary, featuring very little in the way of widespread alterations to the gametypes, or map selection. Minor changes to weapon layout would be enforced however, including changes to power weapon reserve ammunition, along with the removal of weapons like the Kelos'vaarda-pattern storm rifle, and the Z-400 splinter grenade.
The 2018 season of the Halo World Championship would feature a radical shift, including the addition of new maps made in the game's Forge editor, Oddball as a new gametype, the changing of the motion tracker, and the removal of certain Spartan abilities, and the MA5D assault rifle as a starting weapon. Overtime, an update released in 2017 would be used as the testbed for a widespread weapon tuning update for competitive play, with many changes to the weapon sandbox being tested out leading up to the update's launch. Notably, the game's utility weapons were set to be shifted off the assault rifle and M6H magnum, to the BR85 battle rifle, and the Gunfighter variant of the M6H magnum. Following a few weeks of testing, plans for these fell through, and the settings shifted to purely M6H-styled gameplay. Additionally to this, active camouflage would receive a buff, being harder to see, and having a quicker re-camo time, following shots fired or received.
Spartan abilities received tweaks for the 2018 season, with Spartan Charge and Ground Pound being removed outright. Additionally, the game's motion tracker received a dramatic overhaul, only tracking players using abilities or firing their weapons, while those players who were simply walking remained unseen.
Handbooks for the Halo World Championships are listed below.
Halo World Championship 2016
[
edit
]
Gametype
Global settings
Map rotation
Team Slayer

Primary weapon: Assault Rifle
Secondary weapon: Magnum
Motion sensor: On
Score to win: 50
Shield percentage: Normal
Round length: 12 minutes
Overtime rules: 3 minutes of overtime added to the clock. Games ends after 50 kills are achieved or time runs out.

Capture the Flag

Primary weapon: Assault Rifle
Secondary weapon: Magnum
Motion sensor: On
Score to win: 3
Shield percentage: Normal
Round length: 12 minutes
Flag at home to score: Yes
Flag automatic reset time: 30 seconds
Overtime rules: 3 minutes of overtime added to the clock. Games ends after 3 flag captures or time runs out.

Coliseum
Fathom
Empire
Truth

Strongholds

Primary weapon: Assault Rifle
Secondary weapon: Magnum
Motion sensor: On
Score to win: 100
Shield percentage: 100%
Round length: 12 minutes
Overtime rules: 3 minutes of overtime added to the clock. Games ends after 100 points are achieved or time runs out.

The Rig
Coliseum
Eden
Empire
Plaza

Breakout

Primary weapon: M20 SMG
Secondary weapon: Magnum
Motion sensor: Off
Score to win: 5 rounds
Shield percentage: 48.5% shields. Shields stay down after taking damage for 70% of normal duration.
Round length: 2 Minutes
Overtime rules: No overtime but teams can tie rounds (time runs out). After 5 round ties, the game ends in a draw.
Push-the-flag rules: Maps have a neutral flag on them. Teams must bring (capture) the Neutral Flag to the enemy's flag stand
Halo World Championship 2017
[
edit
]
Gametype
Global settings
Map rotation
Team Slayer

Primary weapon: Assault Rifle
Secondary weapon: Magnum
Motion sensor: On
Score to win: 50
Shield percentage: 100%
Round length: 12 minutes
Overtime rules: 3 minutes of overtime added to the clock. Games ends after 50 kills are achieved or time runs out.

Coliseum
The Rig
Plaza
Eden
Empire
Regret
Truth

Capture the Flag

Primary weapon: Assault Rifle
Secondary weapon: Magnum
Motion sensor: On
Score to win: 3
Shield percentage: 100%
Round length: 12 Minutes
Flag at home to score: Yes
Flag automatic reset time: 30 seconds
Overtime rules: 3 minutes of overtime added to the clock. Games ends after 3 flag captures or time runs out.

Coliseum
Fathom
Empire
Truth

Strongholds

Primary weapon: Assault Rifle
Secondary weapon: Magnum
Motion sensor: On
Score to win: 100
Shield percentage: 100%
Round length: 12 minutes
Overtime rules: 3 minutes of overtime added to the clock. Games ends after 100 points are achieved or time runs out.

The Rig
Eden
Empire
Plaza
Halo World Championship 2018
[
edit
]
Gametype
Global settings
Map rotation
Team Slayer

Primary weapon: Magnum
Secondary weapon: None
Motion sensor: On
Motion sensor inner range 60%
Motion sensor base movement speed visibility: Off
Score to win: 50
Shield percentage: 100%
Round length: 12 minutes
Overtime rules: 3 minutes of overtime added to the clock. Games end after 50 kills are achieved or time runs out

Coliseum
The Rig
Plaza
Truth
Refuge

Capture the Flag

Primary weapon: Magnum
Secondary weapon: None
Motion sensor: On
Motion sensor inner range 60%
Motion sensor base movement speed visibility: Off
Score to win: 3
Shield percentage: 100%
Round length: 12 minutes
Flag at home to score: Yes
Flag automatic reset time: 30 seconds
Overtime rules: 3 minutes of overtime added to the clock. Games end after 3 flag captures or time runs out

Coliseum
Truth

Capture the Flag (Refuge)

Primary weapon: Magnum
Secondary weapon: None
Motion sensor: On
Motion sensor inner range 60%
Motion sensor base movement speed visibility: Off
Score to win: 3
Shield percentage: 100%
Round length: 12 minutes
Flag at home to score: No
Flag automatic reset time: 12 seconds
Overtime rules: 3 minutes of overtime added to the clock. Games end after 3 flag captures or time runs out

Refuge

Strongholds

Primary weapon: Magnum
Secondary weapon: None
Motion sensor: On
Motion sensor inner range 60%
Motion sensor base movement speed visibility: Off
Score to win: 100
Shield percentage: 100%
Round length: 12 minutes
Overtime rules: 3 minutes of overtime added to the clock. Games ends after 100 points are achieved or time runs out.

The Rig
Eden
Empire
Plaza

Oddball

Primary weapon: Magnum
Secondary weapon: None
Motion sensor: On
Motion sensor inner range 60%
Motion sensor base movement speed visibility: Off
Score to win: 150
Shield percentage: 100%
Round length: 12 minutes
Overtime rules: 3 minutes of overtime added to the clock. Games ends after 200 points are achieved or time runs out.

The Rig
Eden
Empire
Plaza
Sources
[
edit
]
^ Halo Waypoint, Halo Championship Series Announced (Retrieved on Jun 1, 2020) [archive]
^ Halo Waypoint, Halo Championship Series Introduction (Retrieved on Jun 1, 2020) [archive]
^ Halo Waypoint, Points Overview (Retrieved on Jun 1, 2020) [archive]
^ Reddit, Beginners Guide to the HWC NA Regionals (Retrieved on Jun 1, 2020) [archive]
^ Halo Waypoint, The Official Halo Championship Series Map & Gametype Settings (Retrieved on Jun 1, 2020) [archive]