Cryogenic detonator
From Halopedia, the Halo wiki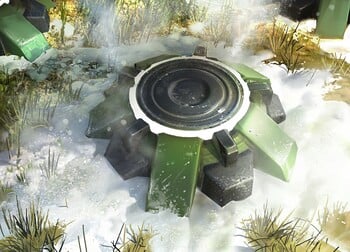 The cryogenic detonator, also known as cryo mine,[1] is a cryonic proximity-detected mine developed by Serina and employed by the United Nations Space Command forces onboard the UNSC Spirit of Fire.[2] Once deployed, the mine detonates when enemies are detected nearby and freezes anything caught in its blast.[3] Given it shares the same casing, it is likely derived from the Lotus anti-tank mine.
Gameplay
[
edit
]
| | | |
| --- | --- | --- |
| " | Drops cloaked mines onto the battlefield. Once armed, mines explode on contact. Explosion chills or freezes enemies. Does not damage air units. | " |
Cryogenic Detonator I
Cryogenic Detonator II
In Halo Wars 2, Cryogenic Detonator is a leader power exclusive to Serina. When activated, three mines are deployed to the targeted location in a linear pattern; rotating the camera allows the player to rotate the pattern's orientation. The mines are cloaked shortly after being deployed. The mines detonate when enemy ground units enter its proximity. Units caught within the explosion take damage, and become inflicted by the chill status, or frozen if they meet the threshold. In Blitz, Cryogenic Detonator is exclusive to Serina and costs

50 energy.
Gallery
[
edit
]
Blitz card for Cryogenic Detonator.
List of appearances
[
edit
]
Sources
[
edit
]