Ammunition ship
From Halopedia, the Halo wiki
Ammunition ship
Production information

Class:

Support vessel

Role:

Supply munitions and ordnance in support of fleet vessels

Technical specifications

Engine(s):

Fusion drive (four primary, two secondary)[1]

Slipspace drive:

Chronological and affiliation

Era:

Post-Covenant War era

Affiliation:

 
The ammunition ship is a type of support vessel in service with the UNSC Navy. Its hull classification symbol is AE.[1]
Overview
[
edit
]
Ammunition ships are used to supply fleet vessels with ordnance and other matériel while on deployment. Such ships bear two primary fusion drives and two smaller secondary drives. The ammunition ship's aft closely resembles that of the Phoenix-class colony ship, though its beam is considerably narrower.[1][2]
Ships of the line
[
edit
]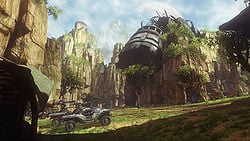 List of appearances
[
edit
]
Sources
[
edit
]