Moa statue (Halo 2)
From Halopedia, the Halo wiki
"WE'VE GOT A NEW CONTACT, UNKNOWN CLASSIFICATION!"

This article may contain information based upon upcoming, unreleased, or recently-released content from MCC July 2023 update, and may not be fully complete. Additionally, the information may be subject to change if it is based on pre-release material. Please update it as soon as any relevant and accurate material is available.
This article is about the collectibles in
Halo 2
. For similar collectibles in other games, see
Moa statue
.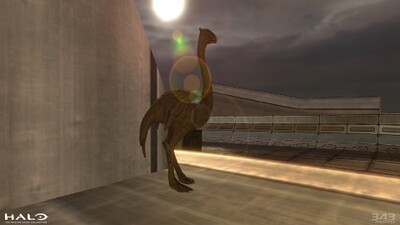 Moa statues are a collectible available in the campaign of Halo 2. The statues were added to Halo 2's campaign in the Series 9 July 2023 update for Halo: The Master Chief Collection, and are not present in the original Xbox or Windows Vista editions of the game.[1]
Overview
[
edit
]
Several moa statues can be found in each level on any difficulty and take the form of a small golden Moa. Upon being discovered, the statues can be destroyed, with the weekly challenge Eye Spy requiring the destruction of three such Moa for completion. Three levels are chosen to spawn Moa within each week (observable on the challenge itself), with each level getting three statues chosen, meaning they are not all consistently placed all the time.[2] As such, this page lists all potential statue locations. Statues marked as (Broken) spawn every week and don't count towards the challenge, even when the challenge selects the level the statues are placed on. Statues marked as (Unobtainable) denote statues placed in cutscene rooms that aren't accessible.
Statue locations
[
edit
]
Cairo Station
[
edit
]
Outskirts
[
edit
]
Metropolis
[
edit
]
The Arbiter
[
edit
]
The Oracle
[
edit
]
Delta Halo
[
edit
]
In the first building after the gondola ride, on the top floor to the right of the fuel rod gun & grunt.
After the second gondola, follow the walkway on the outside of the building to the right of the door, take a left and tucked in the corner by the wall.
Sacred Icon
[
edit
]
Quarantine Zone
[
edit
]
Gravemind
[
edit
]
Gravemind has Six Moa Statues, which can be found in the following locations:
Uprising
[
edit
]
Uprising has Four Moa Statues, which can be found in the following locations:
High Charity
[
edit
]
High Charity has Four Moa Statues, which can be found in the following locations:
The Great Journey
[
edit
]
The Great Journey has Five Moa Statues, which can be found in the following locations:
Sources
[
edit
]