Halo: The Master Chief Collection skulls
From Halopedia, the Halo wiki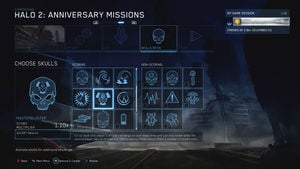 Skulls are gameplay modifiers with the appearance of a human skull featured in Halo: The Master Chief Collection. Like in Halo 3: ODST, Halo: Reach and Halo 4, the skulls are no longer easter eggs in-game, and can also be accessed in the campaign menu without claiming them in campaign levels. A total 38 skulls are included in the collection, including several unique additions to Halo 2: Anniversary.[1]
Skulls in The Master Chief Collection are divided into two categories: Scoring and Non-Scoring. Scoring skulls increase the challenge and reward players with higher score multipliers or bonuses to base enemy values when turned on. Non-Scoring skulls can either be neutral, such as Grunt Birthday Party, or in cases of cheat-like skulls, have a score multiplier of zero. Zero multiplier skulls like Scarab disqualify level times and scores from being recorded on the leaderboard and disable score and time-based achievements.[1]
List of skulls
[
edit
]
The games in which the skull is available are listed below each skull. Pre-order skulls are marked with ¹ and unlocked globally on December 12, 2014. With the exception of these as well as the Swarm skull, all other skulls are unlocked from the start.[1] Skulls marked with ² were not available in the original release of the games, but were implemented via updates in the MCC Insider Program. The Acrophobia skull was added into the game for Halo 3 for the release of Halo 3 on PC.[2] The Acrophobia can only be unlocked for use by completing a seasonal challenge to kill 343 flying enemies in Halo 3, between July 14 and July 29, 2020.[3] It was unlocked globally after July 29, 2020. New skulls from the collection became available on Halo 3 and Halo 3: ODST with the update on 11 April 2022.[4]
| Icon | Name | Description | Multiplier | HCEA | H2A | H3 | ODST | H4 | Reach |
| --- | --- | --- | --- | --- | --- | --- | --- | --- | --- |
| | Acrophobia | The Corps: Now issue rifles AND wings... (Press Jump twice to fly.) | 0.00x | No | Yes | Yes² | Yes | No | No |
| | Anger | Enemies fire their weapons faster and more frequently. | 1.10x | Yes² | Yes | Yes | Yes | No | No |
| | Assassins | All enemies in the game are permanently cloaked. | 1.20x | No | Yes | No | No | No | No |
| | Bandanna¹ | Infinite Ammo. | 0.00x | Yes | Yes² | Yes | Yes | No | No |
| | Black Eye | Your shields only recharge when you melee enemies. Bash your way to better health! | 1.10x | Yes | Yes | Yes | Yes | Yes | Yes |
| | Blind | HUD and weapon do not display onscreen. | 1.10x | Yes² | Yes | Yes | Yes | Yes | Yes |
| | Bonded Pair¹ | Co-op skull: When one player dies, the other player gets a large damage boost that lasts a while. | 0.00x | No | Yes² | Yes | Yes | No | No |
| | Boom¹ | Explosions have twice the damage radius. Light fuse, run away. | 1.00x | Yes | Yes² | Yes | Yes | No | No |
| | Catch | Enemies throw and drop more grenades. | 1.10x | Yes² | Yes | Yes | Yes | Yes | Yes |
| | Cowbell | Acceleration from explosions is increased. | 1.00x | No | No | Yes | Yes | Yes | Yes |
| | Envy | Chief trades his flashlight for Active Camo. | 0.00x | No | Yes | No | No | No | No |
| | Eye Patch | Auto aim features disabled for all weapons. You'll miss it when it's gone. | 1.10x | Yes | Yes² | Yes | Yes | No | No |
| | Famine | Weapons dropped by AI have half the ammo they normally would. You might want to pack an extra magazine. | 1.10x | Yes | Yes | Yes | Yes | Yes | Yes |
| | Feather¹ | Player and enemy melee strikes impart more movement physics. | 1.00x | No | Yes² | No | No | No | No |
| | Fog | The motion tracker is disabled. You'll miss those eyes in the back of your head. | 1.10x | Yes | Yes² | Yes | No | Yes | Yes |
| | Foreign | Covenant weapons: How do they work? Players cannot pick up or use Covenant weapons. | 1.10x | Yes | No | Yes | Yes | No | No |
| | Ghost | AI no longer flinch from attacks. | 1.00x | Yes² | Yes | Yes | Yes | No | No |
| | Grunt Birthday Party | Grunt headshots lead to glorious celebrations. | 1.00x | Yes | Yes | Yes | Yes | Yes | Yes |
| | Grunt Funeral¹ | Grunts die in a blaze of glory. And plasma. | 1.00x | Yes | Yes² | No | No | No | No |
| | Iron | Death carries a heavy price. Dying in co-op resets you at your last saved checkpoint. Dying solo restarts the level. | 1.30x | Yes | Yes | Yes | Yes | Yes | Yes |
| | IWHBYD (I Would Have Been Your Daddy) | Rare combat dialogue becomes more common. | 1.00x | No | Yes | Yes | Yes | Yes | Yes |
| | Jacked | Players can only enter ground vehicles by boarding. | 1.20x | No | Yes² | Yes | Yes | No | No |
| | Malfunction | Every time you respawn, a random element of your HUD is disabled. | 1.00x | Yes | Yes² | Yes | Yes | No | No |
| | Masterblaster | Co-op skull: One player's shields recharge to overshield level and can only melee while the second player has no shields but infinite ammo. Roles switch after a number of enemy kills. | 1.10x | No | Yes² | Yes | Yes | No | No |
| | Mythic | Enemies have increased health. | 1.20x | Yes | Yes | Yes | Yes | Yes | Yes |
| | Piñata¹ | Punching enemies makes them drop grenades. Beat them 'til candy comes out! | 1.00x | Yes | Yes² | Yes | Yes | No | No |
| | Prophet Birthday Party | Punch that Prophet up to 11. (Each punch the player lands on the Prophet of Regret on the level Regret is accompanied by an electric guitar lick). | 1.00x | No | Yes² | No | No | No | No |
| | Recession | Every shot is worth twice the ammo. Save those bullets, player. | 1.20x | Yes | Yes² | Yes | Yes | No | No |
| | Scarab | All player-held weapons fire Scarab Gun beams. | 0.00x | No | Yes² | No | No | No | No |
| | SO...ANGRY... | Enraged Brutes explode like a frag grenade if not dispatched within seconds. Base Brute score values are increased. | 1.00x | No | Yes² | Yes | Yes | No | No |
| | Sputnik | Mass of objects is decreased, making them more easily displaced. | 1.00x | Yes² | Yes | No | No | No | No |
| | Streaking | Player shields constantly decay at a slow pace but recharge some with every enemy kill. | 1.20x | No | Yes² | No | No | No | No |
| | Swarm | Hunters are much stronger. Base Hunter score values are increased. | 1.00x | No | Yes² | Yes | Yes | No | No |
| | That's Just... Wrong | Increases enemy awareness of player. | 1.10x | Yes² | Yes | Yes | Yes | No | No |
| | They Come Back | Flood Combat Forms spawned by Infection Forms reanimating a corpse are much more dangerous. Flood Combat Form score values are increased. | 1.00x | No | Yes² | Yes | No | No | No |
| | Thunderstorm | Upgrades the rank of most enemies. | 1.20x | Yes² | Yes | Yes | Yes | Yes | Yes |
| | Tilt | Enemy resistances and weaknesses are increased. | 1.20x | No | No | Yes | Yes | Yes | Yes |
| | Tough Luck | Enemies always go berserk, always dive out of the way, never flee. | 1.10x | Yes² | No | Yes | Yes | Yes | Yes |
Sources
[
edit
]