Moa statue
From Halopedia, the Halo wiki
"WE'VE GOT A NEW CONTACT, UNKNOWN CLASSIFICATION!"

This article may contain information based upon upcoming, unreleased, or recently-released content from December 2022 Update, and may not be fully complete. Additionally, the information may be subject to change if it is based on pre-release material. Please update it as soon as any relevant and accurate material is available.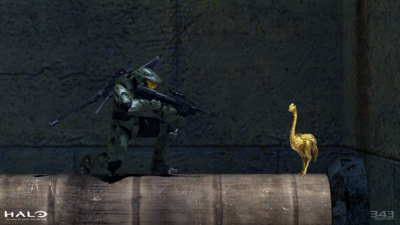 Moa statues are a campaign collectible found in the Master Chief Collection editions of Halo: Combat Evolved, Halo 3, Halo 3: ODST, Halo: Reach, and Halo 4.[1] Within the collection, the statues were introduced in Halo 3 with Series 8: Mythic, and several can be found in each level on any difficulty and take the form of a small golden Moa. Upon being discovered, the statues can be destroyed, with the weekly challenge Eye Spy requiring the destruction of three such Moa for completion.[2] Statues for Reach and ODST were introduced in the Series 9 update in August 2022, with Combat Evolved and Halo 4 gaining statues in the December 2022 update.[3][4]
Three levels are chosen to spawn Moa within each week (observable on the challenge itself), with each level getting three statues chosen, meaning they are not all consistently placed all the time.[5]
Statue locations
[
edit
]
To view the locations of each game's statue collectibles, see the following pages:
Gallery
[
edit
]
Sources
[
edit
]