Banished Shade
From Halopedia, the Halo wiki
This article is based on canon information, but the article's name is conjectural, and/or uses descriptions as the title, as there is currently no official name for the subject.
Banished Shade
Production information

Product line:

Model:

Various

Technical specifications

Ammunition type:

Superheated plasma

Crew:

One operator

Usage

In service:

Role(s):

Anti-infantry

Affiliation:

 
This Shade design is a custom variant in the Shade line of deployment turrets, prominently used by the Banished.
Overview
[
edit
]
Design details
[
edit
]
The Shade variant employed by Yapyap's forces bears a considerable visual similarity to the So'riru-pattern Shade and Mamua'uda-pattern turrets employed by the Covenant. It features an extensive layer of armor plating and a more enclosed cockpit to protect the operator.[1]
The Banished operated these Shade designs during the Second Ark Conflict in 2559. They were used by Yapyap's rebellion, and crewed with Unggoy gunners.[1]
Gameplay
[
edit
]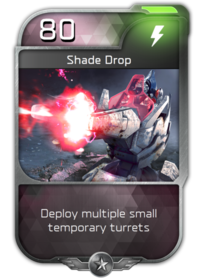 Halo Wars 2

[

edit

]
Shade turrets appear in Halo Wars 2 as a leader power that can be employed by Yapyap.
Shade Drop I: Activate to manually drop 4 Shade turrets onto the battlefield.
Shade Drop II: Increases the number of Shades to 6.
The Shade Blitz card costs

80 to deploy, and is of Uncommon rarity.
Gallery
[
edit
]
List of appearances
[
edit
]
Sources
[
edit
]