Stasis cannon
From Halopedia, the Halo wiki
"WE'VE GOT A NEW CONTACT, UNKNOWN CLASSIFICATION!"

This article may contain information based upon upcoming, unreleased, or recently-released content, and may not be fully complete. Additionally, the information may be subject to change if it is based on pre-release material. Please update it as soon as any relevant and accurate material is available.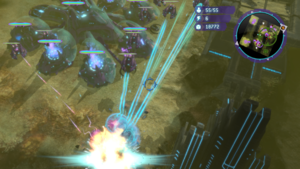 The Stasis Cannon is a Covenant stasis weapon found on the Bkowe'nei-pattern Vampire's frontal section. When fired, it disables the targeted enemy aircraft, rendering it unable to move or fire. Once the Vampire is upgraded with Stasis Drain, the weapon not only stops its target, but also drains its energy regenerating the Vampire itself and making the hostile crash onto the ground. Its second upgrade, Stasis Bomb, causes drained aircraft to explode, inflicting Area Of Effect damage.[1]
List of appearances
[
edit
]
Sources
[
edit
]