M3045 deployable automated turret
From Halopedia, the Halo wiki
M3045 Medium Machine Gun/Self Tracking
Production overview

Type:

Automated anti-infantry turret

Specifications
Service history

In service:

 
The M3045 Medium Machine Gun/Self Tracking[1] is a classification of anti-infantry turret employed by the UNSC and Liang-Dortmund Corporation as of 2558.[2] They were employed by the latter during the attack on Apogee Station by the Created. It bears a superficial resemblance to the M3063 Deployable Turret, particularly in its method of folding up when inactive.
Gameplay
[
edit
]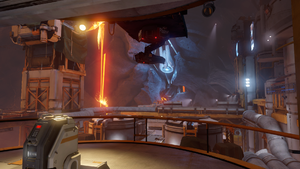 One of these autoturrets can be found in the Halo 5: Guardians campaign level Unconfirmed, in the section before Fireteam Osiris descends into the Forerunner structure (where the Soldier comments on the human weaponry). In the structure to the right is a control panel overlooking the combat area. Once activated, the turret will unfold and begin firing on the enemies.
Gallery
[
edit
]
List of appearances
[
edit
]
Sources
[
edit
]