Lightbringers
From Halopedia, the Halo wiki
"After the bombardment of a UNSC excavation site, colonial miners volunteered to extract an ore critical to the Master Chief's exoskeleton despite threat of the cave collapsing."
— Official description[1]
Lightbringers is a Halo Infinite trailer under the UNSC Archives series. It was released on November 13, 2021.[1]
Plot summary
[
edit
]
A UNSC Archive is accessed. It tells the story of how colonial BXR Mining Corporation miners extracted an ore critical for Master Chief's exoskeleton.
Transcript
[
edit
]
The trailer starts with a United Nations Space Command logo with the text below it saying "UNSC Archives" and "Orion II: MJÖLNIR DEVELOPMENT". The archive opens with a load of data.
After the data loads, the following text appars, and a model of John-117 in his MJOLNIR Powered Assault Armor (GEN3) Mark VI is rendered, before focusing on the exoskeleton.
SYSTEM COMPONENT
[REACTIVE EXOSKELETON]

SPARTAN OPERATIONS
MJÖLNIR POWERED ASSAULT ARMOR
GEN 3
MARK VI
Following the focus on the armor text appeared giving a quick overview of what happened before the archive started.
[GATHERING DATA...]
ENTRY DATE: 2552.03.09

AFTER THE COVENANT BOMBARDED A UNSC EXCAVATION SITE. COLONIAL MINERS VOLUNTEERED TO EXTRACT AN ORE NEEDED TO FORTIFY THE MASTER CHIEF'S EXOSKELETON.

ONLY THE ORE REACHED THE SURFACE BEFORE THE ONGOING ATTACK THREATENED TOTAL COLLAPSE.

INITIATING VIDEO LOG...
The camera shows glimpses of Miners running away from collapsing rocks. An alarm is going off with the miners yelling and falling. Things start to calm down with the remaining miners standing in a cavern with the helmet lights the miners are wearing lighting it up.
A miner proceeds to remove his helmet, and walks to the center of the cavern, where he proceeds to sing.
Miner (Singing): "Buried in the heart of an ancient moon. He always dreamed of the fight."
The camera looks at the other miners, who are watching the miner singing.
Miner (Singing): "Glory was won while his brothers were lost. In battles he waged in the night."
The cavern echos distant booms from the bombardment outside, while debris fall and the miners watch. The singing miner has a tear go down the right side of his face while he sings.
Miner (Singing): "His life blown away in the blood that he gave. An offering unrecognized."
A female miner passes a rock to another miner who proceeds to write something on the wall of the cavern.
Miner (Singing): "Never became what he already was, the darkness that brings on the light."
The rest of the miners start to join in on the singing.
Miners (Singing): "Never became what he already was, the darkness that brings on the light."
The singing becomes more intense, each time the rock hits the wall.
Miners (Singing): "Never became what he already was, the darkness that brings on the light."
The miners look up as the cave finally collapses showing light from outside. Leaving only the message that was written.
FROM THE SOIL
TO THE STARS

Production notes
[
edit
]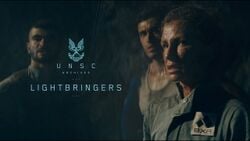 This section needs expansion. You can help Halopedia by expanding it.
Sources
[
edit
]