2550
From Halopedia, the Halo wiki
2550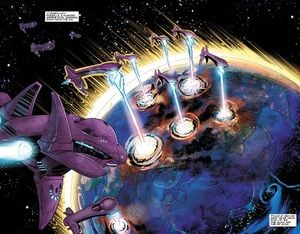 The glassing of Minab.
---
26th century
Previous: 2548 • 2549
Next: 2551 • 2552
---
For a complete list, see our Timeline directory.
2550 was a year in the 2550s in the 26th century.
January
[
edit
]
February
[
edit
]
November
[
edit
]
November 17: Seven Covenant-held locations have been raided by the Banished by this time, the most recent of which was a forward outpost meant to be attacked as part of Operation: SLOW DIVE.[8]
November 23: The Official Secrets Act is passed.[9]
Unknown Date
[
edit
]
Sources
[
edit
]
^ a b Halo Wars 2, Phoenix Logs — Rise of Atriox I
^ Data Drop, #5
^ Halo: Reach Limited Edition, Intersystem News, LCDR Miranda Keyes Awarded Silver Star
^ Dr. Halsey's personal journal, April 6, 2550
^ Dr. Halsey's personal journal, June 3, 2550
^ Halo: Warfleet, p. 31
^ Halo Wars 2, Phoenix Logs — Rise of Atriox II
^ Dr. Halsey's personal journal, November 23, 2550
^ Halo: Shadows of Reach, chapter 1