UserWiki:DefeatingLine/Workshop/1
From Halopedia, the Halo wiki
Note: Under Construction - "The UserWiki was well-conceived. It is surely the only way to end the Flood threat."
Welcome!
Greeting, Reclaimer! I am 5225-Iniquitos Epitaph, monitor of this Userwiki. I will guide you on your journey. I assure you, I will not go rampant and try to kill you.
DefeatingLine

Gender:

Male

Date of birth:

(Same as the fall of a certain human planet) (age 19)

Birthplace:

Islip, New York

Religion:

Roman Catholicism

Occupation:

Student

Personal website:

N/A

 
Quotes
About Me
Contributions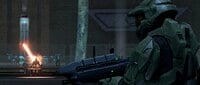 Objectives
Work on Halo: Combat Evolved walkthroughs
Achieve greater intagration of information from Waypoint
Improve articles to excellence:
Make needed articles, including:

M955 ASW/AC 30mm MLA (Pending gathering of info)
Prophet (Title)
Site Activity
Site activity
Resources
Forum:Halopedia Forums
Halopedia:Standards
Soundtracts
"Ooh, that's catchy."
Halo CE/Aniversary
Bravery, Brotherhood

Pale Rider
An End of Dying
Honest Negotiations suite
First Step
Choreographite
Halo 2
MJOLNIR Mix

Unforgotten
The Last Spartan
In Amber Clad
Heavy Price Paid
Earth City
Halo 3
Finish the Fight

One Final Effort
This is Our Land
Greatest Journey
Follow Our Brothers
Tribute
Halo Wars
Halo 3:ODST
Halo: Reach
Other
Arnhem Knights

Behind the Lines: Cortège

Acadian Driftwood
<youtube width="200" height="25">-te7KW4K-00E</youtube>
The World at War - Reckoning
<youtube width="200" height="25">-qEGsbVFLBhY</youtube>
Corsican Chant - Requiem
<youtube width="200" height="25">-4gFJrdIdpqE</youtube>
Videos
Halo-related videos I like. Click on the links.
"Why would you hesitate to do what you have already done?"
Gallery
The End
"Unacceptable! Unacceptable! That is absolutely unacceptable! Protocol dictates action! I see now that helping you was wrong! You are a child of my makers, inheritors of all they left behind. You are Forerunner, but this Userwiki... is mine!"